Business helps more people prosper
Private sector will take a more prominent role in the UK's approach to fighting world poverty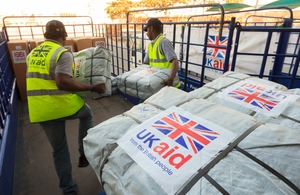 Businesses, entrepreneurs and investors will take a more prominent role in the UK's development work across Africa and Asia, as part of a new approach aimed at using the potential of private enterprise to fight world poverty.
The new approach paper on the role of the private sector in development will seek to harness the expertise and resources of private enterprise to boost investment and provide better public services in the poorest countries, creating jobs and income opportunities for more than ten million people.
At the heart of this new approach will be a reformed and revitalised CDC - the development finance institution owned by the UK Government.
CDC's new business plan, launched alongside the UK's new approach, will make their work more tightly focused on the poorest countries, more flexible, more transparent and entirely driven by the objective of development.
The new approach includes
Make it easier to do business: by reducing barriers, costs and risks of doing business, cutting red tape and expanding markets and trade.
Wider access to finance: Support programmes to provide 50 million people with financial services, for example through mobile banking and supply credit to 300,000 enterprises.
Improved public services: Working with the private sector to extend and improve the delivery of healthcare, schooling and other basic services. For example, supply chain experts will speed up the delivery of free bednets in high-burden malaria countries like Nigeria and find more effective ways to deliver anti-malarial drugs in Mozambique.
Investment in infrastructure: We will increase private investment in long-term infrastructure schemes through the Private Infrastructure Development Group. Since it was launched in 2003, it has helped secure $14.5 billion of private investment in telecoms, energy and transport infrastructure to serve nearly 100 million people in the poorer developing countries.
A reformed CDC: They will gain the ability to invest directly in companies where it's needed most. They will become more flexible and better able to control and manage capital with a direct influence on the results it achieves. In addition, all future investments will be made in the poorer countries of South Asia and Sub-Saharan Africa.
International Development Secretary Andrew Mitchell said:
For too long, not enough has been done to tap into the potential of the private sector as part of the UK's wider development efforts.

Aid alone will never be the answer - it is business, trade and enterprise that will stimulate the economic growth that will help people, communities and countries to lift themselves out of poverty.

This new approach will help to do just that, bringing jobs, investment and opportunity to countries that desperately need it.
Published 31 May 2011