News story
Business Finance Partnerships open for applications
£500 million of Government investment for small and mid-sized businesses open for applications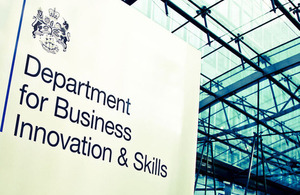 31 May 2012
---
---
The government is today issuing two requests for proposals to manage the remaining £500 million available through the Business Finance Partnership (BFP).
The BFP aims to ease the flow of credit to small and mid-sized businesses in the UK by diversifying their sources of finance and making them less reliant on bank lending. It is part of a wider £21 billion credit easing programme being taken forward by government to open up new channels of finance for businesses.
Support for small businesses
The Department for Business, Innovation and Skills will invest up to £100 million through non-traditional lending channels that lend directly to small businesses.
Business Secretary Vince Cable said:
"As businesses are continuing to struggle to get credit from their banks, developing alternative lending channels so firms are less reliant on banks is essential.
"The Business Finance Partnership will help to develop these channels over the medium term so businesses seeking credit have more options available to them. Our aim is to create a more diverse financial infrastructure which better serves the needs of our small and medium-sized companies."
Support for mid-sized businesses
Up to £400 million more will be invested by the Treasury through managed funds that lend directly to mid-sized businesses. The Chancellor said:
"These proposals are the next part of our credit easing programme, passing on the benefits of Britain's creditworthiness to businesses, and opening up new options of finance for them. They are only possible because of the credibility that Britain has earned - and the low interest rates that come with it - as a result of taking the tough decisions needed to deal with our debts."
The application process
The application process is open until midday on 20 July 2012. The requests for proposals published today provide potential managers with the necessary information to decide whether to submit a proposal to HM Treasury or BIS along with information to ensure that their response is in accordance with Government's requirements.
Links
Published 31 May 2012