Press release
Business deal to boost recycling brokered
The voluntary commitment is part of a package of measures outlined in the Waste Review earlier this year.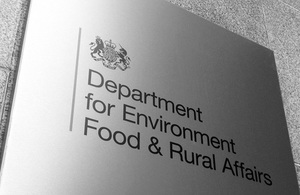 A new recycling charter has been launched to help boost recycling rates and tackle the issues smaller businesses face in getting access to waste services, Recycling Minister Lord Taylor announced today.
The Business Waste and Recycling Services Commitment will bring together smaller businesses that need recycling services with local councils offering services, and agencies offering best practice waste reduction advice.
Recycling Minister Lord Taylor said:
"This deal will bring much needed relief for smaller businesses that want to do the right thing but are struggling to get a decent recycling service.
"For the first time we've got solid agreement between councils and businesses to make it easier and more cost effective for smaller firms to recycle more and improve their resource efficiency."
Federation of Small Businesses Environment Committee Chair David Caro said:
"FSB research has shown that 95 per cent of businesses would recycle more if they had better access to recycling facilities and we are therefore pleased that Defra has launched this commitment to encourage local authorities to work with SMEs to help them manage their waste and recycling more effectively. The FSB has long called for small firms to have better access to recycling facilities and so now we call on all local authorities to sign up to the commitment."
LGA Environment Board Chairman Cllr David Parsons said:
"There is a lot that councils can do and in many cases are already doing to help local shops, offices and eateries to minimise waste and boost recycling. A lot of councils also offer a very affordable waste collection service to businesses in their area.
"The new voluntary commitment gives councils the opportunity to send a clear signal to local businesses about the support and services they can provide. Local authorities and their residents have worked together to achieve a nearly four fold increase in the rate of household recycling in the past decade. We hope to help businesses replicate that success."
The Commitment emphasises 12 principles of best practice that local authorities can use to tailor services to local businesses such as the need to make recycling easy, provide value for money and continually improve services through feedback.
Small and medium-sized businesses produce 30 million tonnes of waste a year with recycling rates already exceeding 50 per cent.
Almost half of councils across the country offer local businesses a recycling services and boosting these rates even further by helping them use waste as a resource will provide a valuable contribution to the green economy while cutting waste to landfill.
The voluntary commitment is part of a package of measures outlined in the Waste Review earlier this year, and builds on a responsibility deal with the Environmental Services Association to help businesses prevent waste and recycle more.
Recent Defra research shows that businesses across the UK have the potential to save up to £18 billion a year by taking steps to reduce waste.
Notes
The Business Waste and Recycling Service Commitment can be found here.
The Business Waste and Recycling Service Commitment is voluntary and has been developed jointly by Defra, the Federation of Small Businesses, the Local Government Association and WRAP.  A resource pack with best practice examples will be available to help make best practice a reality.
Improving access for SMEs to better recycling services was a commitment announced in the Government's Review of Waste Policy published on 15 June.
Research published by Defra in March 2011 suggests that businesses could save around £18 billion by reducing waste and diverting it from landfill.
Published 19 October 2011