News story
Business and Enterprise Minister to complete his 'Week in Small Business'
The Minister has worked with five separate businesses, all in different markets, to gain a strong understanding of the daily issues facing small…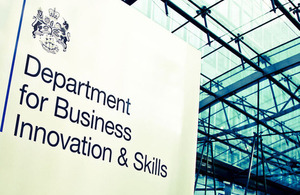 The Minister has worked with five separate businesses, all in different markets, to gain a strong understanding of the daily issues facing small and medium sized enterprises (SMEs).
The Small Business team at the Department for Business, Innovation and Skills (BIS) has also been taking part in the programme. 95 per cent of BIS enterprise policy officials have visited a total of 123 businesses across the country over the past nine months.
Mr Prisk said:
"My week with small businesses has been a fantastic experience and I can't wait to get to work with Michelmersh Brick and Tile Company. All of my work experience days have shown me the challenges faced by our small firms, and how the Government can help in creating the right environment for these businesses to flourish.
"I have been hugely impressed by the dedication, ingenuity and enthusiasm of all the people I have worked with. We have some brilliant businesses in this country, which makes me extremely optimistic for the future of our economy.
"It is vital that we create the right conditions for growth and break down the barriers between business and government. That is why I have encouraged officials working on small business policy at my Department to participate in this initiative too. It is great to see that 95 per cent of the team have already spent valuable time understanding small firms."
Mr Prisk is now looking at how he can encourage other Ministers and officials from across Whitehall to sign up to the programme, and spend between one and five days a year with SMEs or people trying to start up a business.
The 'Week in Small Business' initiative was introduced by BIS to gain an in-depth understanding of the specific needs of SMEs, which account for more than 99 per cent of private businesses. SME performance and activity is a key driver of the UK economy.
Some of the companies which BIS officials have worked with include:
Brompton Bikes, one of only two major bike frame manufacturers still based in the UK;
Spiezia Organics, a micro company in Cornwall that produces organic skin and body care products; and
Fosters Bakery, a specialist baker and confectioner based near Barnsley
Michelmersh Brick and Tile Company, the business hosting Mr Prisk's last work experience day, is a leading producer of quality stock bricks and handmade clay roof tiles. The company is based near Romsey in Hampshire, and currently employs 80 members of staff. It was established in 1842 and acquired by Michelmersh Brick Holdings in 1997.
Martin Warner, CEO of Michelmersh Brick Holdings, said:
"We are delighted to have Mark Prisk spending his final day of work experience with us. It is great to see a Minister getting to know businesses like ours, and this will be an excellent opportunity to explain the workings of our long standing business and the challenges facing our industry. Michelmersh is an important local employer with a history of producing heritage products which enhance the built environment."
Notes to editors:
---
Mark Prisk's 'Week in Small Business' comprised of visits to the following companies:
Day 1: DIY Kyoto (London)
Day 2: R.C.A. Structures (Hertford)
Day 3: Ashley Anderson (West Midlands)
Day 4: Qualiturn Products (Hertford)
Day 5: Michelmersh Brick Holdings (Hampshire)
The 'Week in Small Business' initiative builds on an existing training programme within the Department for Business. Previously employees across the Department were encouraged to undertake short placements in business. The new initiative places emphasis on visits to small businesses in particular, and employees have been encouraged to spend time at those businesses which are at the forefront of leading growth.

Michelmersh Brick Holdings was established in November 1997 to enable the acquisition of the businesses of Michelmersh Brick and Tile and Dunton Brothers. Since this acquisition, there has been a £7 million investment in upgrades to the machine making process and the business now has a production capacity of 12 million bricks and tiles per annum, supplying to prestige house builders in Berkshire, London suburbs, Oxfordshire and Wessex. Dunton makes four million traditional bricks per annum at Ley Hill, Buckinghamshire. Further information about the company can be found at www.michelmersh.com.

BIS' online newsroom contains the latest press notices, speeches, as well as video and images for download. It also features an up to date list of BIS press office contacts. See [http://www.bis.gov.uk/newsroom](http://www.bis.gov.uk/newsroom) for more information.
Notes to Editors
Contact Information
Name BIS Press Office Job Title
Division COI Phone
Fax
Mobile
Email NDS.BIS@coi.gsi.gov.uk
Name James Platt Job Title
Division Department for Business, Innovation and Skills Phone 020 7215 5978 Fax
Mobile
Email james.platt@bis.gov.uk
Published 10 March 2011