News story
Business and Enterprise Minister on his second day of 'work experience'
The 'Week in Small Business' initiative was introduced by the Department for Business, Innovation and Skills (BIS) to gain an in-depth understanding…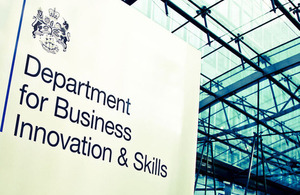 The 'Week in Small Business' initiative was introduced by the Department for Business, Innovation and Skills (BIS) to gain an in-depth understanding of the specific needs of small and medium sized enterprises (SMEs).
SMEs account for more than 99 per cent of private businesses and their performance and activity is a key driver of the UK economy.
Mr Prisk is also actively encouraging employees working on enterprise policy at the Department to participate in the initiative to help boost their understanding of the real-life issues faced by smaller firms, and bring SMEs and Government closer together.
Mr Prisk said:
"The experience I will gain from this initiative is invaluable, and I have already developed a better understanding of the issues facing small businesses from my first day with DIY Kyoto.
"Today is a great opportunity to gain real-life experience at a different type of business, and I am looking forward to getting to know how Ashley Anderson operates on a daily basis. The manufacturing industry is vital to the recovery of the UK economy and the Government needs to provide the right conditions to ensure manufacturing succeeds in the globally competitive environment.
"Spending a day with Ashley Anderson will give me crucial insight into how we can address the barriers that manufacturing businesses face."
Ashley Anderson is the manufacturing arm to the Willowbrook group, and the company has just over 40 employees. It specialises in the manufacture of mobility furniture and all products are handmade in the UK.
Keith Manvell, Director of Ashley Anderson, said:
"We are thrilled to have Mark Prisk spending the day working with us. We have plans to expand in the near future and it will be great to speak to Mark about this opportunity, and other ways the Department for Business can help small firms such as ours.
"We are also looking forward to showing Mark the day-to-day operations of a UK manufacturing business, and explaining some of the issues we face on the ground."
Notes to editors:
---
The final schedule for the remainder of Mr Prisk's 'Week in Small Business' will be finalised in due course.

The 'Week in Small Business' initiative builds on an existing training programme within the Department for Business. Previously employees across the Department were encouraged to undertake short placements in business. The new initiative places emphasis on visits to small businesses in particular, and employees will be encouraged to spend time at those businesses which are at the forefront of leading growth.

As a group, Willowbrook operates three companies: Willowbrook, the Recliner Factory and Ashley Anderson. Willowbrook and Recliner Factory are both direct sales companies selling mobility products. Ashley Anderson is the manufacturing arm and manufactures the group's furniture. As a group, Willowbrook has over 100 employees and group turnover is expected to be £17 million this financial year.
---
BIS' online newsroom contains the latest press notices, speeches, as well as video and images for download. It also features an up to date list of BIS press office contacts. See http://www.bis.gov.uk/newsroom for more information.
Notes to Editors
Contact Information
Name BIS Press Office Job Title
Division COI Phone
Fax
Mobile
Email NDS.BIS@coi.gsi.gov.uk
Published 6 October 2010