News story
Business and Enterprise Minister continues the 'Week in Business'
Mark Prisk's second day working with small businesses, enabling him to gain better insight into the experiences of companies on the ground.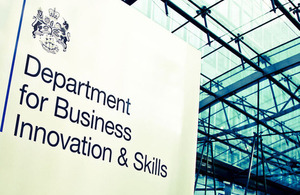 Mr Prisk spent his second day on 'work experience' at Ashley Anderson Ltd, a furniture manufacturer based in the West Midlands.
The company, which has just over 40 employees, is the manufacturing arm to the Willowbrook group. It specialises in the manufacture of mobility furniture and all products are handmade in the UK.
Mr Prisk said:
"The experience I will gain from this initiative will be invaluable, and I have already developed a better understanding of the issues facing small businesses from my first day with DIY Kyoto.
"This is a great opportunity to gain real-life experience at a different type of business.
"The manufacturing industry is vital to the recovery of the UK economy and the government needs to provide the right conditions to ensure manufacturing succeeds in the globally competitive environment.
"Spending a day with Ashley Anderson will give me crucial insight into how we can address the barriers that manufacturing businesses face."
SMEs account for more than 99% of private businesses and their performance and activity is a key driver of the UK economy.
The 'Week in Small Business" initiative was introduced by BIS to gain an in-depth understanding of the specific needs of SME's.
LINKS
Read Mark Prisk's blog of working for a day at Ashley Anderson
Mark Prisk's first 'work experience' day at DIY Kyoto
Published 8 October 2010