World news story
Bushfires in Australia
From:

Part of:

Published:

23 October 2013

Last updated:

25 October 2013, see all updates
This was published under the 2010 to 2015 Conservative and Liberal Democrat coalition government
Information, contact details and assistance for British Nationals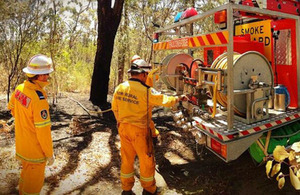 Several large bushfires are burning around New South Wales. Further severe weather conditions are forecast. A state of emergency has been declared, with communities on alert to evacuate at short notice.
Contact details:
For further information please visit the Rural Fire Service website or call the information line on 1800 679 737
Those concerned about the welfare of a family member or friend should contact the Police Information Centre on 1800 227 228
British Nationals
Any British Nationals in NSW seeking assistance can call the Sydney Consulate-General on 9247 7521 and follow the prompts to Consular Emergency.
Emergency Travel Document
If you are in Australia and your British passport has been lost, stolen, damaged or has expired, and you need to travel urgently, please get in touch with your nearest British Consulate, who may be able to issue an Emergency Travel Document (ETD).
To replace a lost, stolen or damaged passport please visit GOV.UK
Lost driving licence
If your British driving licence has been lost or damaged, please see GOV.UK
If your NSW driver's licence has been lost or damaged, please see the Roads & Maritime Services website
Lost birth/marriage/death certificate
If you need a replacement birth, marriage or death certificate, please see GOV.UK
Document information
Published: 23 October 2013
Updated: 25 October 2013
Included information on emergency travel documentation.
First published.