Bus crash in South Africa
FCO helpline for concerned relatives is 020 7008 1500.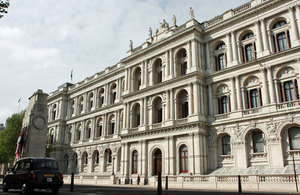 The FCO can confirm that three British Nationals have been killed in a coach crash in South Africa on 10 June.
British High Commissioner, Nicola Brewer said:
"Shortly after speaking to the press in Nelspruit Medi-Clinic earlier this evening, the hospital authorities informed me that a third young British national from the same group had just died. He had been in intensive care, and in theatre since arriving at the hospital earlier in the day. My thoughts and prayers are with the families of the three young people who have died in this tragic accident.
I have visited the two lecturers with the group in hospital, and a number of the other young British patients. My consular team are accompanying 4 of the group who have been discharged to a local hotel for the night, and who will be joining 3 of the group already at the same hotel.
The remaining eleven members of the group are being looked after in Nelspruit hospital; the driver was treated for his injuries and has been discharged from another local hospital. We are arranging to recover their personal effects including luggage and passports from the South African police.
I shall be remaining at the hospital until later this evening, staying overnight in Nelspruit and returning to the hospital tomorrow morning.
We continue to work closely with the South African police, medical and provincial government authorities, who are offering every assistance, as are the central authorities. "
FCO helpline for concerned relatives is 020 7008 1500.
Published 10 June 2010