Press release
Bursaries and scholarships for top graduates who train to teach
Financial incentives worth £25,000 for academic year 2015 to 2016 announced.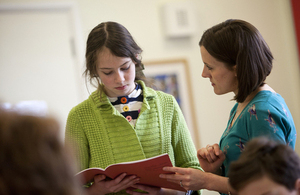 Bursaries and prestigious scholarships worth £25,000 tax free will be offered to top graduates who choose to get into teaching and to help raise standards across England's schools, Schools Minister David Laws has announced today (Thursday 25 September).
Raising teaching standards and delivering the best schools and skills to prepare young people for life in modern Britain is key to building a stronger economy and a fairer society.
To help recruit the best and brightest graduates, with the potential to be brilliant teachers in key subjects, the coalition government has announced increases to financial incentives available to trainees starting in the academic year 2015 to 2016.
Changes include:
a £25,000 tax-free bursary (up from £20,000 in 2014 to 2015) for top trainees with a 2:1 or a 1st in physics, or a 1st in maths, chemistry, computing or languages
a £20,000 tax-free bursary (up from £15,000 in 2014 to 2015) for graduates with a 2:1 in chemistry or languages, and £15,000 for graduates who get a 2:2 (up from £12,000 last year)
increased funding for schools offering salaried School Direct places for trainees in maths, physics and computing to boost the starting pay in these subjects - trainees could earn more than £21,000 nationally and £25,000 in inner London
increased bursaries for trainees in design and technology and geography (£12,000 for a 1st, £9,000 for a 2:1 and £4,000 for a 2:2), biology (£15,000 for a 1st, £12,000 for a 2:1 and £10,000 for a 2:2) and those with a 2:2 in music will now get £4,000
a new bursary for trainees in religious education - £9,000 for a 1st and £4,000 for a 2:1.
As well as a range of lucrative bursaries the government is continuing to offer sought-after teacher training scholarships for the most gifted maths, physics, chemistry and computing trainees, in partnership with highly respected professional bodies:
the Institute of Physics (IOP)
the Institute of Mathematics and its Applications (IMA)
the Royal Society of Chemistry (RSC)
BCS, the Chartered Institute for IT
Around 1,000 top graduates have already benefited from the scholarship schemes, which have been running since 2011. As well as financial benefits, scholars enjoy a range of perks including free membership to professional bodies, access to resources and events to support them in their teacher training, and early career support through their first years of teaching.
A further 700 scholarships are up for grabs for the 2015 to 2016 academic year worth up to £25,000.
Schools Minister David Laws said:
Teaching is not only a hugely rewarding career but it also offers fantastic opportunity for progression.

We want to attract the best and brightest graduates into the profession, to inspire even more young people to achieve their full potential.

Increases to the range of bursaries and prestigious scholarship on offer for core subjects like maths, chemistry and physics will help us recruit the nation's most talented graduates and raise the standard of teaching in our schools so that every child receives the education they deserve.

These changes will help build a stronger economy and a fairer society.
Charlie Taylor, Chief Executive of the National College for Teaching and Leadership (NCTL), said:
Teaching is a brilliant job that now attracts more top graduates than ever.

I am delighted we are offering these excellent bursaries and scholarships, giving more great people the opportunity to become teachers.
Around 35,000 trainee teachers need to be recruited every year. To help with this, NCTL runs an annual recruitment drive which plays a key role in attracting high-quality new entrants to the profession.
This year's campaign, Your Future Their Future, launched on 15 September with an interactive online film featuring television's Mr Burton (Educating Yorkshire) available to view on YouTube, 4OD and Sky Go. The new campaign also includes regional recruitment events throughout the academic year.
Physics
The physics ITT (initial teacher training) scholarship scheme is run by IOP. IOP offers the following additional benefits to successful scholars:
IOP membership
mentoring through their Stimulating Physics Support (SPS) programme
networking and support from scholarship peers
the chance to contribute to physics education policy
Dr Frances Saunders, President of IOP, said:
Physics teachers play a vital role in ensuring that school students have the knowledge and skills necessary to take on the challenges of the 21st century. We're delighted that the government continues to provide this support to help us recruit the best future physics teachers; teachers who will provide excellent physics education for generations to come.
Maths
The maths ITT scholarship is run by IMA in collaboration with the London Mathematical Society (LMS), the Royal Statistical Society (RSS), Mathematics in Education and Industry (MEI) and the Mathematical Association (MA). IMA and its partners offer the following additional benefits to successful scholars:
membership of IMA, LMS, RSS, MEI and MA
free or reduced rates to a range of journals
free or reduced rates for attendance at a range of conferences
membership of a scholars community, and an opportunity to contribute to maths education policy
access to a professional body library and online resources including free individual access to MEI's extensive online mathematics teaching and learning resources on their 'Integral' website
Nigel Steele, IMA's Honorary Education Secretary said
The vital importance of mathematics to the economy has been recognised and we are pleased that the Department for Education has increased the level of financial incentives in order to help attract well qualified and knowledgeable mathematicians to the teaching profession.

Continuation of the mathematics teacher training scholarship scheme will also provide a range of non-financial benefits to support the training and early careers of the inspirational teachers we need to ensure all pupils have the opportunity to reach their potential. We are delighted to be working with the Department for Education and the other mathematical professional organisations to deliver this scheme for a third year.
Chemistry
The chemistry ITT scholarship is run by RSC. RSC offers the following additional benefits to successful scholars:
membership for 2 years, and discounted for a further 2 years
selection of RSC materials including resources, lab coat and other consumables
national and regional support networks including:

local meetings
online communities
annual conference/events
mentoring
Chief Executive of RSC Dr Robert Parker, said:
We are fully committed to ensuring every child has an excellent chemistry education. This starts with excellent teachers so we are delighted to be awarding chemistry teacher training scholarships again this year.

Our scholars come from all walks of life - some are recent graduates, others have worked in industry, academia or other professions - but they all share in common a passion for chemistry and inspiring the next generation which is why we support them to become the best chemistry teachers they can.

Our first scholars have just completed their teacher training and they have given us great feedback on the impact of their scholarships. They valued the chemistry-focused professional development and the opportunity to be part of a community of enthusiastic chemistry teachers.

We need inspiring, engaging and expert teachers to nurture the next generation of scientists who will tackle the global challenges of the future. To achieve this we need to increase the number of chemistry-specialist teachers in our schools so we hope this next round of scholarships will encourage more exceptional graduates to consider a career in teaching.
Computing
The computing ITT scholarship is run by BCS. BCS offers the following additional benefits to successful scholars:
the scheme is intended to be part of a range of activities that nurture future Computing Master Teachers who will lead innovation both within their own school and in collaboration with other schools
BCS will also broker informal mentoring and development opportunities with excellent schools, universities and major employers
Bill Mitchell, Director of Education for BCS, said:
We are delighted the scholarship scheme is running again this year and are pleased to have the support of a number of companies who are as passionate as we are about ensuring we attract the very best people to become teachers.
The scheme is backed by major employers including Microsoft, Google, IBM, BT, HP, Metaswitch Networks, Toshiba, Ocado and Facebook.
Notes to editors:
Scholarship schemes operate independently, and as such each professional body offers a different range of non-financial benefits to successful scholars. To be eligible for a scholarship, applicants must have a 1st or 2:1 degree, have a high level of subject knowledge, and excellent potential to teach. To be awarded a scholarship, applicants must undertake an additional assessment and selection process run by the appropriate organisation. Further details can be found on the websites of the relevant organisations.
DfE enquiries
Central newsdesk 020 7783 8300
General enquiries 0370 000 2288
Published 25 September 2014