Press release
Burringham flood defences settling in
After a summer of investment and building work, the new flood defence is working effectively and provides the protection it was built for.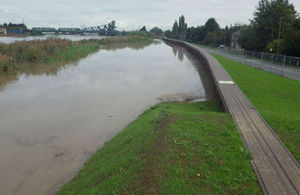 Huge metal piles have been driven into the ground this summer to provide a strong defence against flooding, and as expected during the current high tides we are seeing some water seepage through the ground as the defences settle.
The seepage is not a flood risk, is contained through the drainage system and is expected to diminish as the ground settles.
Morgan Wray, a team leader at the Environment Agency, said:
Building stronger defences and installing the sheet piling obviously disturbs the ground which needs a little time to reconsolidate around the defences. This is a natural process which is expected and the ground just behind the defences is likely to be wet for a while".

All of our flood defence work is to protect people and property and the strengthening of the defences at Burringham will do that".
Depending on how long it takes the ground to settle the Environment Agency are talking to contractors about stopping any of the water reaching the nearby road as this could pose a risk in freezing conditions.
To report concerns or incidents please contact the Environment Agency's 24-hour emergency hotline on 0800 807060.
Published 3 September 2015