World news story
Burma: Taking the conflict out of business (March 13, 2014)
The UK is supporting attempts to make Burma's economic development sustainable and inclusive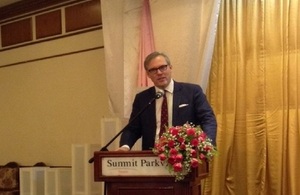 Speaking at an event on 'Conflict Sensitive Economic Governance' that brought together representatives from government, business and civil society from areas including Kyauk Phyu, Sittwe, Dawei, Mandalay and Rangoon, British Ambassador Andrew Patrick emphasised the need for all parts of society to be involved in making the decisions that will determine Burma's prosperity.
He said:
Unless people feel the economic benefits in their daily lives there is the risk that political reforms can fail due to a lack of popular support. That is why groups such as yourselves are vitally important. If you can find ways to collaborate and help shape processes around investment then you will give hope to your wider communities that they will see the benefits.
It is never easy to agree on these issues but developing a sense of trust through activities such as this will help remove some of these difficulties.
Further information
The workshop on 'Conflict Sensitive Economic Governance' was held in Rangoon from 10-11 March, and builds on a series of activities organised by the UK-based NGO International Alert, with support from the UK Government's Prosperity Fund.
The British Embassy would also like to extend its thanks to Mr Martin Pun, Chairman of the Myanmar Business Coalition on Aid, for his support.
During the UK's G8 Presidency, UK made a commitment to try and ensure that investment that comes to Burma should be sustainable, beneficial for local people, and ecologically sound. To help with this the UK government has supported the establishment of the Myanmar Centre for Responsible Business.
The UK is also working to ensure that Burma's significant natural resources are shared fairly. The UK is supporting Burma's plans to join the Extractive Industries Transparency Initiative (EITI), so that revenues from natural resources such as oil and gas are transparent and accountable. The UK is also trying to play a positive role in addressing conflict-related issues in Burma. Through UK Aid, the UK is providing over £10 million in humanitarian assistance to those affected by conflict in Kachin state and over £10 million in humanitarian assistance to those affected by conflict in Rakhine state. More widely, over the next two years, the UK is contributing over £40 million in support for conflict affected people and peace building country-wide.
Published 13 March 2014