World news story
Burma: Mobilising banking for the people
This was published under the 2010 to 2015 Conservative and Liberal Democrat coalition government
UK supports Burma's banking sector as it seeks to make use of developments in telecoms and make banking more accessible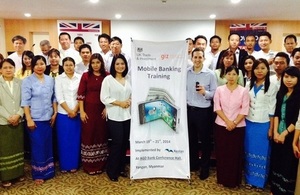 The British Embassy in Rangoon has joined forces with UK mobile banking experts Keatan and Standard Chartered Bank to host a 3-day workshop for Burma's local banking sector as it prepares to use the expansion of Burma's telecoms sector to make banking and money transfers more accessible to more people.
Anthony Preston, Head of Prosperity at the British Embassy in Rangoon, said at the opening of the event on 19 March:
At present, only 10% of local people and 40% of local businesses in Burma have bank accounts. Many are predicting that mobile banking will be a key building block in ensuring that the development benefits of this country are made accessible to the wider society. "Unbanked" people already use financial services – lots of them. However, these financial services are all informal and are fundamentally insecure, unpredictable, and often costly.
Low-income people are particularly vulnerable to shocks, like a death of an income-earner or weather that wipes out crops. Access to more formal financial services enables people to take control of their financial lives and benefit from more predictable, stable, secure and relatively low-cost services. By being "banked", people can better plan for the future, save to send their children to school, invest in their businesses, and protect themselves against unexpected crises.
Further information
The 3-day workshop on mobile banking was facilitated by Keatan, UK-based mobile banking experts with a wealth of experience in helping developing economies use online and mobile platforms to make banking more accessible. Keatan's participation was made possible by a grant from UK Trade & Investment.
Workshop topics:
• Evolution and impact of mobile banking and payments • Developing a mobile banking and payments strategy • Building a mobile corporation • Measuring success and continuous improvement
The British Embassy would like to thank AGD Bank for providing their facilities for the workshop and Deutsche Gesellschaft für Internationale Zusammenarbeit GIZ for their collaboration and in-kind support. We would also like to express our appreciation to Ooredoo, for explaining mobile banking from the perspective of a telecommunication provider.
Standard Chartered Bank are a member of the UK Financial Services Taskforce, which was established during the visit of H.E. President U Thein Sein to London in July 2013, and is providing assistance to government and private sector organisations on a whole number of financial issues.
This initiative falls under the UK Government's 'Prosperity' agenda, which seeks, in partnership with local institutions, to increase exports and investment, open markets, ensure access to resources and promote sustainable global growth.