World news story
Burma: Farewell to Chevening Scholars
British Embassy Rangoon hosted a reception to launch the first Burma Chevening Alumni Conference and to say farewell to Chevening Scholars.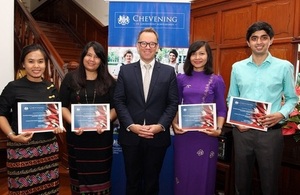 Rangoon, BURMA – Chargé d'Affaires, Mr Matthew Hedges, hosted a reception to mark the first Burma Chevening Alumni Conference in collaboration with the Chevening Alumni Association of Malaysia. Commenting on the occasion, Mr Hedges said:
Chevening is the UK Government scholarship scheme for foreign students and one of the most prestigious of its kind. It offers the opportunity for talented Burmese professionals from across the country to pursue postgraduate studies in the UK. We now have well over 100 Chevening Scholars and Fellows, a fantastic network of contacts of some of Burma's current and future leaders. We hope that by supporting this conference and establishment of an Alumni Network in Burma, we can foster links and build a coalition of leaders that will play a vital role in Burma's reform process.
41 Burmese young professionals have already completed Chevening Scholarships in the UK in recent years. In 2014/15, four Burmese scholars will be studying at the University of Sussex, University of Nottingham, University of Bradford and Imperial College London and pursuing their Masters degrees in Development Studies, Teaching English to Speakers of Other Languages (TESOL), Peace, Conflict and Development and Economics and Strategy for Business.
The UK Chevening Scholarship Programme for the year 2015/16 is now open and the British Embassy Rangoon encourages applications from Burmese candidates.
How to apply
Please refer to www.chevening.org/burma for:
• Detailed information about recruitment criteria, application details and deadlines;
• Information on arranging an English language test,
• Information on choosing a course/university in the UK.
The deadline for applications for the 2015/16 programme is 15 November 2014. All applications should be submitted online through the website addressed above.
Notes to Editors
Chevening scholarships are not applicable for PhDs, undergraduate studies or professional courses (e.g. ACCA, RIBA, ICSA etc) nor are they awarded for studies outside the UK, for distance learning or for part-time studies. For further information, please contact British Embassy Rangoon, 80 Strand Road, Rangoon, Burma, Tel: +95 1 370863, 370864, 370865 or Email: Press.Officer@fco.gov.uk
About Chevening Scholarships
Chevening Scholarships are the UK government's global scholarship programme, funded by the Foreign and Commonwealth Office (FCO) and partner organisations. The Chevening programme began in 1983 and has developed into a prestigious international scheme. Scholars come from 116 countries worldwide and approximately 1500 scholarships will be awarded for the 2015/16 Academic year globally. There are over 43,000 Chevening alumni around the world who together comprise an influential and highly regarded global network. For further information and to apply for a Chevening Scholarship please see www.chevening.org and www.chevening.org/burma
Published 1 September 2014