World news story
Burma: Cleaning up financial crime
British Government supporting Burma's fight against Money Laundering and the Financing of Terrorism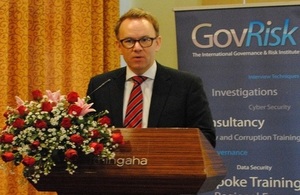 The British Government is supporting workshops in Naypyitaw and Yangon this week on Anti-Money Laundering and Combating the Financing of Terrorism (AML/CFT), in partnership with Burma's Government and private sector. Beginning on 10 February, members from key government agencies including the Financial Intelligence Unit, Police Force, Attorney General's Office, Union Supreme Court, and the Central Bank are attending a two-day workshop in Naypyitaw. On 14 February key stakeholders from the Central Bank, Financial Intelligence Unit and private sector (financial and non-financial reporting institutions) will attend a workshop in Yangon. The training is provided by UK organisation GovRisk, as part of a regional series of workshops, which have previously taken place in Malaysia, Indonesia, Cambodia and the Philippines.
The workshops take place at a pivotal moment for the country's AML/CFT efforts: draft bills on anti-terrorism and new AML legislation have been submitted to Parliament, and the Financial Action Task Force (FATF) meets this week in Paris to review the country's status. The GovRisk workshops will examine the practical approaches and international best practices to enhance the effectiveness of the AML/CFT regime, which will only be enhanced once further legislative measures are in place.
Strengthening the institutions which combat money laundering and other financial crimes is a vital step in ensuring a strong, stable financial system, which is open to international investment. This initiative falls under the UK Government's 'Prosperity' agenda, which seeks, in partnership with local institutions, to increase exports and investment, open markets, ensure access to resources and promote sustainable global growth.
Speaking at the opening of the workshop in Naypyitaw Matthew Hedges, Deputy Head of Mission at the British Embassy, remarked:
There are many donors, none more eager than the UK, to support the reform process being led by President Thein Sein's government. However, there are also those who would want to take advantage of your country, using it as a channel for money laundering and other financial crimes. The UK is committed to preventing this – committed to working with you to ensure that the right systems are in place to protect your economic reform process.
Lt. Gen. Ko Ko, Union Minster for Home Affairs, and Chairman of the Central Control Board on Money Laundering, remarked:
This is an auspicious and momentous day for the Central Control Board, in that it marks our first engagement with the UK on this issue. We deeply appreciate the provision of this technical assistance, and the participants from many government agencies for attending.
GovRisk faculty member Gert Demmink, a world-renowned expert in money laundering and financial crime, who will conduct the training, said:
The last two years have seen increased scrutiny on AML/CFT standards in the region, and President Thein Sein's Government is working with international partners to strengthen their laws, regulations and enforcement. We hope to assist some of the key departments in implementing these standards. In doing so, these institutions can enforce and prosecute financial crimes and ensure a strong, stable environment which encourages legitimate business.
Further information
• Global Money Laundering is estimated at 2-5% of total GDP, or £23-57 billion.
• On 21st October 2013 the Financial Action Task Force (FATF), an intergovernmental body which sets and monitors standards for financial crime prevention, identified Burma as not having committed to an action plan to address "strategic deficiencies" in its AML/CFT policies and procedures. Also included in this category were Algeria, Ecuador, Ethiopia, Indonesia, Kenya, Pakistan, Syria, Tanzania, Turkey, and Yemen. The FATF will meet again this week in Paris, to update this list and determine appropriate measures for all countries under review.
• FATF advises that, to be removed from this list, Burma must: 1) adequately criminalise terrorist financing; 2) establish and implement adequate procedures to identify and freeze terrorist assets; 3) further strengthen the extradition framework in relation to terrorist financing; 4) ensure a fully operational and effectively functioning Financial Intelligence Unit; 5) enhance financial transparency; and 6) strengthen customer due diligence measures. This project contributes principally towards points 4, 5 and 6.
About GovRisk
GovRisk is a provider of technical assistance, training and consulting services to government bodies and private sector institutions worldwide. Since 2010 GovRisk has provided high quality consultancy and training programmes to public and private sector institutions from more than 30 countries.
We offer a wide variety of programmes within the fields of financial crime, corruption, risk management and governance. For further information please visit www.govrisk.org
About Mr Gert Demmink
Gert Demmink is former Head of Department, Expert Centre for Integrity, in the Directorate of Supervision of the Netherlands Central Bank (De Nederlandsche Bank N.V.), responsible for the supervision of efforts to combat fraud, money laundering and financing of terrorism. Currently he is Managing Director, Eagle Compliance and Partner in Philip Sidney. He is also senior adviser to the Central Banks in the Netherlands IMF Constituency (mainly former Soviet Republics) with regard to AML/CFT/Corruption and (tax) fraud. He has also advised Ukraine, Georgia, Armenia & Bulgaria. Other Skills: • Deputy Judge in the Amsterdam Criminal Court (since November 2001)
• Freelance trainer with FMO (Institute for Financing of Developing Countries):
• presentations and in-house workshops in Islamic banks in Dhaka, Bangladesh (2003)
• Trainer with the Netherlands Compliance Institute.
• Chairman, Training & Education Committee of Netherlands Chapter ACFE.
• Lawyer & Forensic Auditor by profession
Professional Experience Record:
• 1991 – 1996: Ministry of Justice in the Netherlands. Senior policy officer in the field of international co-operation (police/prosecution)
• 1996 – 1997: Netherlands Antilles Government Project Manager for the FIU
• 1998 – 2007: De Nederlandsche Bank N.V. (Banking Supervision and FIU roles)
• Current: Managing Director, The Caribbean Compliance Company, The Eagle Compliance Company and Philip Sidney (the international governance and compliance initiative)
For all press enquiries enquiries please contact:
nicolas.lemoignan@govrisk.org or anthony.preston@fco.gov.uk
Published 13 February 2014