News story
Bureaucracy busting boost for street traders
A consultation on pedlary and street trading includes proposals to get rid of the Pedlars Act (1871)_ _and make changes to street trading laws…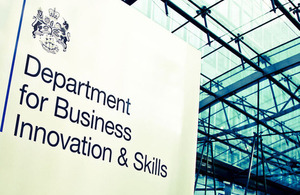 A consultation on pedlary and street trading includes proposals to get rid of the Pedlars Act (1871)_ _and make changes to street trading laws to make sure they comply fully with the European Services Directive. The proposals will make it easier for street traders and pedlars to trade.
Jo Swinson said:
"Some of the best places to shop are our vibrant street trading stalls, which are an important part of traditional British culture. The changes we're proposing will help to eliminate barriers to street traders and pedlars by making it easier to trade, boosting retail and helping small traders - including many young entrepreneurs - to expand and grow.
"The Pedlars Act is an archaic law which requires those wishing to peddle to obtain a pedlar's certificate (and pay a fee for this) at a time when small businesses are at the heart of continuing growth in the UK - this is unhelpful and restrictive bureaucracy. These proposed changes will help give a boost to those that trade on the street."
The consultation on the draft regulations closes on 15 February 2013.
**Notes to editors
**1. The consultation on draft Regulations to ensure compliance with the European Services Directive can be found at www.bis.gov.uk/Consultations
The European Services Directive was implemented into UK domestic law by the Provision of Services Regulations 2009. The aim of the Directive, in general, is to make it easier for service providers such as street traders and pedlars to set up or sell their services anywhere in the EU.

In relation to the street trading regime in England and Wales, the main proposal is to insert a new clear and up-to-date definition of pedlary for the purposes of the pedlar exemption from the street trading regime.

The Government's economic policy objective is to achieve 'strong, sustainable and balanced growth that is more evenly shared across the country and between industries.' It set four ambitions in the 'Plan for Growth' (PDF 1.7MB), published at Budget 2011:
To create the most competitive tax system in the G20

To make the UK the best place in Europe to start, finance and grow a business

To encourage investment and exports as a route to a more balanced economy

To create a more educated workforce that is the most flexible in Europe.
Work is underway across Government to achieve these ambitions, including progress on more than 250 measures as part of the Growth Review. Developing an Industrial Strategy gives new impetus to this work by providing businesses, investors and the public with more clarity about the long-term direction in which the Government wants the economy to travel.
BIS's online newsroom contains the latest press notices, speeches, as well as video and images for download. It also features an up to date list of BIS press office contacts. See http://www.bis.gov.uk/newsroom for more information.
Notes to Editors
Contact Information
Name BIS Press Office Job Title
Division Department for Business, Innovation & Skills Phone
Fax
Mobile
Email bispress.releases@bis.gsi.gov.uk
Name Syeda Hasnain Job Title
Division Department for Business, Innovation & Skills Phone 020 7215 6245 Fax
Mobile
Published 23 November 2012