'Bump book' to help pregnant mums keep healthy
Free booklet for all pregnant mums to help them keep healthy throughout pregnancy.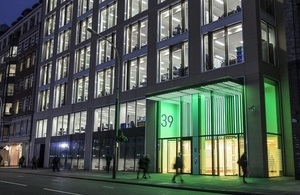 Start4Life, the sister brand to Change4Life, has today launched a free booklet for all pregnant mums to help them keep healthy throughout pregnancy and beyond.
The aim is to get mums-to-be to share information about their health and the steps they are taking to give their babies the best possible start in life, both online and offline.
Health Minister Dr Dan Poulter said:
"Staying healthy in pregnancy is vital to give babies the best possible start in life. We want to do everything we can to reach out to pregnant women and help them live the healthiest lifestyles they can.

"These new materials from Start4Life simplify the information out there and provide clear advice on the importance of a healthy pregnancy.

"The sheer volume of information available to pregnant women - on Facebook and elsewhere - can make it hard to find the best advice. Start4Life will help them to take simple steps to stay healthy for themselves and their baby."
The booklets have been developed in response to findings from a joint survey from parenting site Netmums and the department's Start4Life campaign, which showed a growing trend around how mums-to-be are sharing their pregnancies online.
While the trend for sharing pregnancy information online is growing, 68% of those surveyed felt that online, mothers-to-be were more likely to try to show a 'perfect' pregnancy than a realistic one. Some respondents suggested this could increase the sense of failure for anyone who did not have the 'perfect' pregnancy.
*The new Start4Life booklets are available to all pregnant women through their GPs and midwives and contain helpful tips and advice, healthy recipes, myth busters and exercise suggestions, along with space for mothers-to-be to enter their thoughts and any questions they may have around their pregnancy. There is also space to include their midwife's name and number, their due date and a frame to place their baby's first scan.
*This paragraph has been updated as of 18 December 2012
Published 15 December 2012