Building Stability Overseas Strategy – House of Lords Debate
The cross-Government Building Stability Overseas Strategy was debated in the House of Lords on 6 October 2011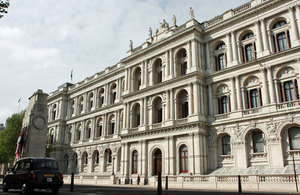 The debate was the first parliamentary debate on conflict prevention since the launch of the Building Stability Overseas Strategy on 19 July. The House of Commons debated conflict prevention in a Westminster Hall debate in June. Lord Howell led for the Government in the debate on 6 October 2011. You can read a full transcript of the debate on the Hansard website.
The debate was an important opportunity to update the House on what the Government is doing on conflict prevention, building on the Prime Minister's speech to the UN General Assembly and the Foreign Secretary's statement to the UNSC on preventative diplomacy, which demonstrate the importance we are attaching to conflict prevention and working with international partners through the UN.
Peers were largely supportive of the BSOS, especially its emphasis on upstream prevention. Key themes which came out during the debate include the importance of monitoring and evaluation of the work we deliver through BSOS; coordinating all of the Government's conflict prevention work under the BSOS; working in partnership with others including multilateral institutions and the importance of mainstreaming the role of women in conflict prevention in line with our National Action Plan for UN Security Council Resolution 1325 on Women, Peace and Security.
Published 7 October 2011