World news story
Building prosperity in DRC: British Embassy Kinshasa holds workshop on optimisation and competitiveness of DRC tax system
Representatives from the Congolese government, the private sector and from civil society met to analyse the fiscal situation in the DRC and propose recommendations for its improvement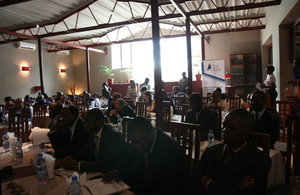 On 26 September 2014, the Embassy, in cooperation with 'Congo Invest Consulting', held a workshop to look at ways to optimise and improve the competitiveness of the DRC tax system. The workshop is the latest event in our ongoing work to improve the business climate in the DRC, as part of the wider prosperity agenda.
The workshop brought together representatives from the Congolese government, the private sector and from civil society to analyse the fiscal situation in the DRC and propose recommendations for its improvement.
Among the themes discussed were fiscal policies; the taxation system, with examples from the coffee, mining and river transport sectors; as well as the economic impact of taxation and its competitiveness.
Speaking at the workshop, the British Embassy Economic Development Team Leader, Dr Euan MacMillan said:
Taxation is a key component for improving the business climate. That is why the Embassy has decided to fund the holding of this workshop. The Embassy hopes that the recommendations and conclusions which emerge from these discussions will contribute to the efforts of the DRC government for improving the business climate.
The UK Government has approved a programme of up to 100 million pounds (about $165 million) over a period of five years from 2014 to 2019 to promote the development of the private sector. Up to 35% of this budget will be channelled through a flexible mechanism for the design and implementation of interventions on an as-needed basis for (i) the reform of the business climate, (ii) enhancing financial intermediation, and (iii) fight against corruption.
The workshop follows a high level business meeting in February 2014 with British companies operating in the DRC. The companies underscored the need for the UK government to work with its Congolese counterpart to optimise the Congolese taxation system.
Published 26 September 2014