World news story
Building links with Pakistan
Scottish Government makes its first visit to the country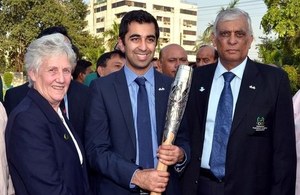 Scottish External Affairs Minister Humza Yousaf is in Pakistan to build and strengthen business and cultural links between Scotland and Pakistan. Mr Yousaf is leading the first official visit any Scottish minister has made to Pakistan. While in-country, he is meeting representatives of government, business and industry. The Minister's visit will coincide with the Commonwealth Games 2014 Queen's Baton Relay's presence in Pakistan. Mr Yousaf will use this unrivalled opportunity to showcase Scotland as a great place to live, work, study, invest or visit.
Mr Yousaf will also learn how the Scottish Government's International Development Fund is having an impact on some of the country's poorest communities. The Minister travelled to Pakistan to stress that the country remains a priority nation for the Scottish Government's overseas engagement.
Mr Yousaf said:
This first visit to Pakistan by the Scottish Government is hugely significant. It demonstrates Scotland's commitment to strengthening our relationship with this key country – with which we already enjoy many links. Scotland's Pakistani diaspora have contributed immeasurably to our way of life. We have a vibrant and diverse Pakistani community and many Scots, like myself, have strong family, business or other connections with Pakistan.
The Scottish Government's ambition is to build on and strengthen the historic and modern links between our nations. Developing a closer relationship between our countries will create the potential for Scotland to secure new inward investment, encourage more students to enrol at our universities, and entice more tourists to visit Scotland. The whole country is gearing up for 2014 – when Scotland welcomes the world to what will be the greatest Games ever. The Scottish Government is determined to capitalise on the economic opportunities of the Games to leave a lasting legacy for Scotland.
Next summer Glasgow takes centre stage and by capitalising on the excitement and momentum around the Games and through events such as the Queen's Baton Relay, we can showcase to the Commonwealth why Scotland is a great country in which to live, study, work, invest and also to visit. I am proud to be part of the Scottish Government's first visit to Pakistan and convinced this will be the start of many positive exchanges between our two nations.
Background
The devolved government for Scotland is responsible for most of the issues of day-to-day concern to the people of Scotland, including health, education, justice, rural affairs, and transport. The Scottish Government was known as the Scottish Executive when it was established in 1999 following the first elections to the Scottish Parliament. The current administration was formed after elections in May 2011. Pakistan is one of the Scottish Government's priority countries as outlined in its Pakistan Plan
There are currently a number of business and trade links between Scotland and Pakistan. In 2011 exports to Pakistan were worth £25 million. There are currently around 5,000 visitors to Scotland from Pakistan each year with expenditure of around £2 million - £4 million. There are links between schools in Glasgow and Pakistan through the British Council's Connecting Classrooms programme. In 2008/09, around 640 students from Pakistan were studying at Scottish universities and colleges. Direct university to university and college to college links exist including through the Commonwealth Scholars & Fellows programme. Humza Yousaf is the first Muslim Minister to be appointed to the Scottish Government. His father was born in Mian Channu Pakistan in 1956 and came to Scotland in 1964. His father's parents were born in Pathankot, India, but moved to Mian Channu, Pakistan post-partition. His mother's parents were born in Ludhiana, India before moving to Faisalabad, Pakistan post-partition. His paternal grandfather was a tailor in Pakistan and worked in the Singer sewing factory in Clydebank when he came to Scotland.
Glasgow 2014's Queen's Baton Relay will visit all 70 nation and territories of the Commonwealth over 288 days. From Pakistan to Singapore; Australia to Rwanda and Barbados to the Bahamas, the baton will move across a record 190,000km. This will be the first baton ever to visit Rwanda. It will carry, innovatively display and illuminate a personal message from Her Majesty The Queen calling the athletes of the Commonwealth to Glasgow for the start of the Games. For more detail of the Scottish Government's support for South Asia through the International Development Fund, visit: http://www.scotland.gov.uk/Topics/International/int-dev/Maps/SouthAsia
Contact
Communications Culture and External Affairs: 0131 244 3177 communicationscea@scotland.gsi.gov.uk
Published 21 October 2013