World news story
Building integrity plays a "critical role" in conflict prevention says UK expert
Jackie Davies, the UK's expert on building integrity, spoke to us about the UK's and NATO's work in this area.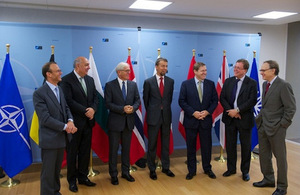 The building integrity programme (BI) is part of NATO's commitment to strengthening good governance in the defence and security sector. As one of the voluntary contributors to the BI programme, the UK plays a leading role along with other NATO Allies Belgium, Bulgaria, Norway and Poland, and partner Switzerland, in helping to raise awareness, promote good practice and provide practical tools to help nations enhance integrity and reduce the risk of corruption in the security sector. So has the building integrity programme been a success? Why does the UK contribute to this voluntary scheme? And what areas still need to be improved? In an interview for this website, Jackie Davies, the Ministry of Defence's BI expert, answers these questions and more.
Q: Why does the UK voluntarily contribute to NATO's building integrity programme?
Jackie Davies:
The Building Stability Overseas Strategy underlines the critical role in investing in conflict prevention. Through building strong, legitimate institutions and societies, fragile countries are more likely to withstand tensions and shocks.  Corruption is seen as one of the major causes of instability and a risk to security. However ways in which to minimise this corruption are not currently embedded into governments' defence and security ethos, policy and training.  With the Prime Minister's focus during his G8 presidency on transparency, the recent Bribery Act and the Golden Thread of Development, the UK has positioned itself as a leading influence and anti-corruption practitioner. Thus, the UK is now more actively engaged than ever with NATO's Building Integrity programme.
Q: What does the UK get out of this contribution?
JD:
By improved focus on NATO's and the UK government's building integrity coordination, prioritisation, capacity and delivery, the long term impact will be a contribution to a reduced risk of conflict and instability in target countries. The UK also hopes to foster a better common understanding in countries reducing corruption. 
Q: What has been the BI programme's biggest success?
JD:
Ukraine has made a significant step forward since it started to embrace a comprehensive BI programme.  One of the first countries to benefit from the NATO BI courses, the Ukrainian Ministry of Defence (MoD) has now started to implement a wide range of BI activities supported by the UK.  Over the last two years, Ukraine has developed and implemented an internal audit function in its MoD, rolled out internal audit courses in the regions and now has 60 professionally trained internal auditors.  The head of the Ukrainian internal audit programme has been asked by Georgia to help with the implementation of their internal audit function.  Following internships in the UK (Defence Academy and Transparency International), defence officials from the National Defence University of Ukraine have developed BI courses which commenced in October 2013. This is fully endorsed and supported by the Ukrainian Defence Minister.
Q: In what areas do we still need to keep improving?
JD:
Whilst acknowledging that we are still in the very early stages of the UK BI programme under the support of NATO BI, we need to focus our priorities because of the limited resources available to us.  We are in the process of developing a range of BI related courses and internship programmes and these will have to be carefully managed to ensure they are appropriately targeted and remain current.  Building a strong network of BI experts and graduates will be key to ensuring the programme is rolled out successfully.
You can follow the UK Delegation to NATO on twitter @UKNATO
Published 21 November 2013
Last updated 21 November 2013
+ show all updates
edited article
First published.