Building a strong Britain with British business
Business leaders met on Monday 29 November to discuss how the Coalition Government can work with British business to drive economic growth.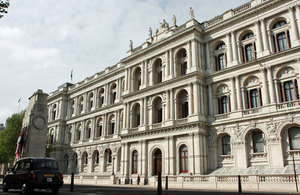 Representatives from over 50 British businesses were able to explain what they valued and wanted more of from the UK government.
The event was hosted by Simon Fraser, Permanent Under Secretary (PUS) for the FCO, Nick Baird, Director General, FCO, and Sir Andrew Cahn, Chief Executive of UK Trade & Investment (UKTI).
The event included a question and answer session with the panellists and round table discussions for business experts to explore a range of issues. Simon Fraser took the opportunity to explain how the FCO, together with UKTI and the Department for Business, Innovation and Skills (BIS) is aiming to help business as part of the Coalition Government's programme for driving the UK's economic growth.
At an event last week the new Lord Mayor of the City of London Michael Bear, in a video interview, explained how his role as the UK's Financial Services Ambassador compliments that of the FCO:
'The work of the Lord Mayor fits directly into the FCO commercial diplomacy drive because I lead delegations to 23 countries and commercial diplomacy is really what it is all about.'
Published 30 November 2010