Build-up to Armed Forces Day begins
This year's event will take place on Saturday 26 June and is an opportunity for the nation to show its support for all those in the Armed Forces…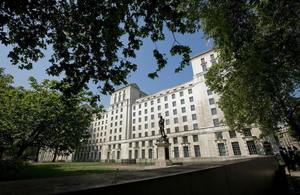 This year's event will take place on Saturday 26 June and is an opportunity for the nation to show its support for all those in the Armed Forces Community past, present and future, including serving troops, Service families, cadets and veterans.
Many people are already getting involved by showing their support on the Armed Forces Day Facebook page which has 255,000 members and rising, allowing people to easily spread the word that they are supporting our Armed Forces Community.
Air Vice-Marshal Murray, Assistant Chief of the Defence Staff (Personnel), said:
Armed Forces Day is a fantastic opportunity for the nation to show its support for the men and women of Britain's Armed Forces. This day is not just about serving personnel, it is a celebration of everyone who is involved with the Armed Forces; their families, veterans and cadets.

I would encourage everyone in the UK to get behind our Forces and take part in one of the many events taking place across the country.
Across the country people are getting involved; communities are holding local events and businesses are showing their support.
On the day itself, the national event will be held in Cardiff, but many more events are being held around the country.
Communities are encouraged to think about organising their own events on or around 26 June.
Events already planned include a Family Fun Day in Ross-on-Wye on 19 June, with lots to try out and look at, including the inflatable assault course, tanks and weapons of the Queen's Dragoon Guards and a tug-of-war competition.
Meanwhile, in Blackpool, a whole week of events is planned, from a '1940s tea room experience' to a concert entitled 'Music for Heroes' at Blackpool's famous Winter Gardens.
Nationally, an Armed Forces Day flag-raising event will take place on 21 June, and reservists and cadets are encouraged to wear their uniforms to work, school or college on 25 June.
Veterans will be encouraged to wear their Veterans Badges with pride during the Armed Forces Day period.
A variety of famous names have already signed up to support the day, including 'Forces' Sweethearts' Dame Vera Lynn and Katherine Jenkins, stars such as Ray Winstone and Jason Statham, the manager of the England rugby union team, Martin Johnson, and the England World Cup football team.
Famous veterans Dame Kelly Holmes and Andy McNab are also showing their support.
See the embedded video to watch the full Armed Forces Day 2010 television advert. See also Related links for more information.
Published 17 May 2010