News story
Budget changes lead to creation of hundreds of jobs in oil and gas industry
Maersk Oil and BG Group announce new allowance for ultra High Pressure High Temperature fields will help enable development of two new projects leading to investment of £6 billion.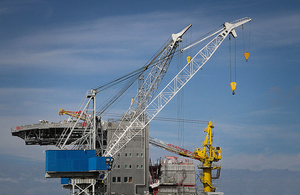 Budget changes to the oil and gas tax regime are expected to support billions of pounds of new investment and the creation of more than 700 new jobs, with thousands more sustained along the supply chain, two major oil and gas producers have announced.
Maersk Oil and BG Group, have announced that the new allowance for ultra High Pressure High Temperature (HPHT) fields will help enable the development of two new projects, which will lead to investment of £6 billion across new fields.
Maersk Oil and BG Group estimate that these two big projects will create more than 700 new jobs and close to 8,000 more jobs will be supported along the supply chain. These jobs will be spread across the country, with about half likely to be in Scotland.
Chancellor of the Exchequer, George Osborne said:
Backing businesses who in turn create jobs is part of our long term plan to fix the economy. The government's continued support for the oil and gas industry has led to billions of pounds of investment, and tens of thousands of jobs across the country.
Opening Maersk Oil's new offices in Aberdeen, Chief Secretary to the Treasury Danny Alexander said:
Changes to the oil and gas tax system made at Budget are expected to lead to billions of pounds of new investment and around 700 new direct jobs and support thousands more along the supply chain across the country.
Each new job will mean more security for another family and this shows how the UK government is supporting one of Scotland's most important industries.
Maersk Oil CEO, Jakob Thomasen added:
The proposed HPHT allowance provides a welcome boost to new and challenging projects and can contribute to energy security, jobs and the economy. Importantly, it can also help to stimulate a new generation of North Sea exploration. The Budget announcement is positive proof of what the Treasury, DECC and industry working together can achieve.
Andy Samuel, Managing Director of BG Group's European upstream business, also added:
BG Group welcomes the new proposals which improve the prospect of the Jackdaw gas discovery being developed. If approved, Jackdaw would make a significant contribution to UK gas security of supply, support thousands of UK-based engineering and construction jobs and help develop highly technical skills for many UK companies.
The new HPHT allowance builds on Sir Ian Wood's recommendations for maximising economic production of oil and gas. It will be designed not only to encourage big development projects, but also exploration across the central North Sea. For every £1 billion a company spends on these projects, they will get at least £200 million in tax relief.
HPHT fields have been given a new allowance because exploration wells in these fields are more technically difficult and expensive to drill. The gas produced from these new fields could provide 10 of the UK's gas demand when operating at peak rate.
This announcement builds on the already successful fiscal regime for oil and gas introduced by the government. Last year, £14.4 billion was invested in the oil and gas industry. Oil and Gas UK estimate that £7 billion of this was directly incentivised by the government's allowances. Decommissioning relief certainty announced at Budget 2013 alone is worth over £20 billion to the industry.
The Budget announced that the government is to work with the new oil and gas body to review the UK's tax treatment of the North Sea to ensure that it continues to incentivise economic recovery as the basin matures.
EnQuest, the UK's largest independent oil company, also confirmed it has awarded a contract to Aker Solutions that will secure 150 new jobs, including 50 new positions at a newly established services base in Aberdeen.
The contract is part of EnQuest's £4 billion investment in its Kraken oil project. The investment was facilitated by government tax relief, through the ultra heavy oil field allowance and is expected to support 20,000 jobs through its construction phase.
These allowances are further examples of how the UK offers the strongest basis to sustain production from, and investment in, the North Sea. The UK government can afford to offer this support because of the size and diversity of the UK economy, encouraging vital new investment that creates jobs and growth and helps to ensure we make the most of this valuable resource in the long-term. An independent Scotland would have to invest around £3,800 per head – over ten times more than when costs are spread across the UK – to match the £20 billion the UK government has committed towards decommissioning in the North Sea.
Image by Sten Dueland on Flickr. Used under creative commons.
Published 21 March 2014