Welcoming today's Budget statement, Environment Secretary Caroline Spelman said: "This is a budget for growth.  It is a budget that wants to…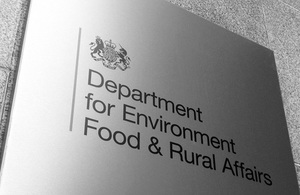 Welcoming today's Budget statement, Environment Secretary Caroline Spelman said:
"This is a budget for growth.  It is a budget that wants to move beyond economic rescue, to economic reform, greater stability, and jobs.
"It is a budget that sets out a simple, efficient and cost-effective framework to provide support for our rural communities, help ease pressure on our precious resources across the country, and deliver on our environmental objectives.  Later this year, our Natural Environment White Paper will set out further how economic growth and protecting the environment can be linked.
"In support of the transition to a green economy, the Green Investment Bank will have an initial capitalisation of £3bn. Alongside private finance, this means that by 2014-15, there will be an estimated additional £18bn of investment in green infrastructure. 
"This is coupled with the Green Deal to encourage energy efficiencies in properties, and the introduction of a carbon price floor.  In addition, companies that have signed up to Climate Change Agreements will now be able claim an increased rate of 80 per cent relief on electricity rates in exchange for meeting energy efficiency targets.  This should encourage businesses in the food and drink and intensive agricultural sectors to improve even further their environmental performance.
"As the Chancellor said this afternoon, we are committed to addressing the pressure on water resources and high water bills, and we will consult on this shortly.  We will also publish the Waste Review, which will consider, among other things, the role that landfill tax plays as a key driver for local authorities to improve recycling rates.
"By focusing on growth, the Budget will mean that small rural businesses will no longer be constrained by red tape.  We are scrapping £350m worth of unnecessary regulation, and we have announced a moratorium on new domestic regulation for micro-businesses.  More apprentices in food and drink businesses throughout the country will help one of our strongest sectors flourish.  Help to deal with the impact of high fuel prices will be particularly beneficial in our rural communities.
"The Budget has set out the Government's intention to introduce a more flexible planning regime with sustainable development at its heart.  We will create a new designation to give additional protection to green areas of particular importance to local communities and maintain strong protection for green belt. We will, through the forthcoming National Planning Policy Framework, remove the brownfield target. We will put responsibility for deciding when developable land should be used in the hands of local authorities and communities, streamlining the planning process to make it less cumbersome.
"And the new measures on Gift Aid and the radical new proposal on charitable giving through your will with reduced inheritance tax mean organisations such as the National Trust, the RSPB, the RSPCA and the Wildlife Trusts who do so much to help deliver Defra's priorities will receive significant financial boost.
"These  measures will not only help get Britain back on track, and help us to deliver our environmental priorities, but they warmly embrace the role of civil society in getting growth underway."
Published 23 March 2011