World news story
Budapest conference on Creative Industries in Central Europe
Peter Oborn gave a speech on the importance of architecture and design at an event organised by Innocities in January 2014.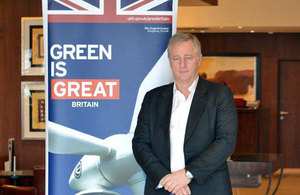 Mr Peter Oborn, Vice President International of the Royal Institute of British Architects (RIBA) gave a keynote speech on the importance of architecture and design in promoting sustainable growth and its role in shaping today's society at the 'Creative Industries in Central Europe' launching event organised by Innocities.
Did you know that the British creative industry is worth more than 36 billion pounds a year and generates 70 thousand pounds a minute for the UK economy? As one of the largest and most successful creative industries in the world, it's the United Kingdom's fastest growing sector, providing employment for 1.5 million people. The creative industry is a vital part of the overall UK economy, and besides its enormous economic contribution, it paves the way for innovation and supports green growth, the development of liveable cities and a more prosperous society in general.
Mr Oborn's keynote speech focused on how good design can reduce whole life costs, improve economic performance and competitiveness in all areas of life, not to mention the benefits it brings to building a sustainable society.
Design has become an integral and well-valued aspect of our lives, spanning across a variety of industries and sectors and is being recognised as an important generator of jobs, wealth and cultural engagement: "Two-thirds of UK businesses believe that design is integral to future economic performance," Mr Oborn pointed out.
More importantly, as climate change and the reduction of CO2 emissions have become an issue of global concern, innovative design and architecture help face these challenges. In 2008, the UK has committed to a climate change act that aims to reduce carbon emissions by 80% by 2050, compared to the levels measured in 1990. As Mr Oborn said, "the UK is on its way to meeting its commitment having achieved a 20% reduction thus far" – in which innovative design plays a big part, making sustainable development possible.
Achieving sustainable development
Sustainable development has become vital in tackling the global issues of climate change, urbanisation, overpopulation and economic decline. Liveable, prosperous cities are at the forefront of our thoughts – safety, quality housing, education, cultural facilities and have become ever so important. Among its many merits, sustainable development:
helps build a strong, competitive economy
ensures the vitality of town centres and sustains healthy communities
delivers high-quality homes and quality of life
promotes low-carbon emissions to meet the challenges of climate change
and requires good design in order to do so
Mr Oborn's speech highlighted that good design has contributed to the measurable achievement of this goal in many areas of life, delivering multiple benefits in the areas of science, health, education and housing. The Role of Institutions and Organisations
Ensuring best practice is applied, institutions such as the Royal Institute of British Architects and Commission for Architecture and the Built Environment (CABE) help implement these goals by setting professional standards in sustainability and applying new technologies. Both the RIBA, an independent, non-profit institution and CABE, a government body on design, aim to advance the art of architecture for the benefit of society by improving our built environment via design and helping create adaptable and sustainable communities.
In the Central European region, the recently launched Innocities programme has been established as a long-term co-operation between capital cities, mainly that of the Danube region. The programme aims to build upon the innovative practices of the creative industry and it aims to reform the urban environment to help create 'liveable cities'. This is achieved by mobilising the creative industry – mainly the SMEs of the region – and supporting the realisation of planned and existing projects.
Mr Oborn emphasized that the RIBA and other industry-related institutions have expressed their support of the Innocities programme, in order to spur the competitiveness of the region and contribute to the cultural and economic welfare of each city.
Our work
The UK supports EU action on reaching an ambitious carbon emissions reduction target and championing low-carbon economy. In line with our priority to promote green growth and international action against climate change, we are committed to support the UK's action and showcase UK know-how in order to divulgate professional experience and promote business collaboration between the United Kingdom and Hungary.
Mr Oborn's visit has provided an excellent opportunity to promote the UK policies of green growth, introduce thought leadership and support British-Hungarian business collaboration in the region and specifically in large Hungarian architectural projects.
Further information:
Published 5 February 2014