World news story
BT China healthcare contract brings UK companies opportunities
On 23 April, BT China signed its very first contract on healthcare with Ningxia General Hospital Group in Beijing.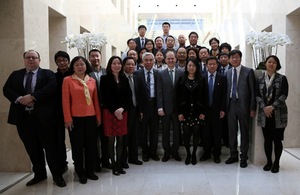 The contract signing was witnessed by Her Majesty's Ambassador to China Sebastian Wood, officials from the Ningxia Autonomous Region and Hospital Directors from all across China.
In parallel, UK Trade & Investment (UKTI) China signed a Letter of Intent with Ningxia's Provincial Department of Health. The letter will open the door for other UK companies to access healthcare opportunities in the region, home to 6 million people in the Northwest part of China. As well as Digital Health, these include professional training in primary care and hospital management as well as health technology innovation.
Ningxia is the first province in which BT has won this kind of consultancy contract. It establishes a platform to develop projects with a local buyer – the Ningxia General Hospital Group – that covers 27 satellite health institutions. BT believes these projects could ultimately be worth between £20 million to £40 million.
As Sebastian Wood noted, the contract signing was the culmination of a year's joint effort between the UK government and the private sector.
Eliza Kwok, Managing Director of BT China, said:
I'd like to express our gratitude to UKTI's Healthcare team for helping BT expand our business development in the Health Sector. And I want to congratulate UKTI on its Letter of Intent with Ningxia Provincial Department of Health. This partnership is not just promoting the success of the National Health Service (NHS) under the Healthcare UK program. It is also creating opportunities for more UK companies to benefit. BT is delighted to have won this contract to provide Ningxia General Hospital Group with consulting services. It will position us as a partner of choice in building a world class Digital Hospital and provincial Health platform.
Published 30 April 2013