"Brits in Poland" meeting takes place in Warsaw
Over 80 British citizens residing in Poland attended a meeting at the British Embassy in Warsaw on 28 November.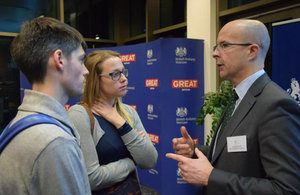 The meeting was led by the British Ambassador to Poland, Jonathan Knott, and attended by representatives of the Consular Section and Department for International Trade (DIT), as well as by representatives of the Polish Ministry of Foreign Affairs and the European Commission.
Ambassador Knott provided participants with an update on the current state of negotiations with the European Union, presented to them the UK's proposals on citizens' rights, and outlined the next steps for the negotiation process. After his presentation, the Ambassador and his team answered questions from the audience on their Brexit-related queries.
The Ambassador emphasised the importance of keeping British citizens informed, and encouraged participants to subscribe to the Government's Brexit email alerts, to make sure they are up to date with the latest and most reliable information.
Published 30 November 2017