Brits and Estonians establish new Combined Force in northern Nad 'Ali
The 'Lions of England', 2nd Battalion The Duke of Lancaster's Regiment (2 LANCS), deployed to Afghanistan on 8 July 2010 from their base in …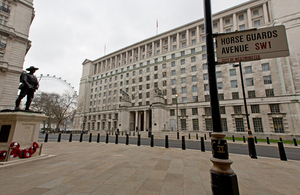 The 'Lions of England', 2nd Battalion The Duke of Lancaster's Regiment (2 LANCS), deployed to Afghanistan on 8 July 2010 from their base in Episkopi in Cyprus, with a mission to establish a new Combined Force in northern Nad 'Ali, central Helmand.
Now well into that mission, the Commanding Officer, Lieutenant Colonel Robbie Boyd, has spoken of his immense pride in how his officers and soldiers have deployed and taken on the difficult tasks in northern Nad 'Ali and in Nahr-e Saraj.
Combined Force Nad 'Ali (North) formed up on 5 August 2010 and, in addition to the attached arms of artillery, engineers, military police, logistics and Afghan partners, the Force consists of a Rifle Company Group from 2 LANCS, one from their sister battalion 1 LANCS, and an Estonian Rifle Company serving side by side in central Helmand.
The Estonian Rifle Company Group 10, commanded by Major Meelis Joemaa, was very quickly nicknamed the 'Lions of Estonia' by the Duke of Lancaster's Regiment for their tenacity and professionalism.
The Combined Force (CF) totals nearly 700 ISAF soldiers and around 300 members of the Afghan National Security Forces.
Lt Col Boyd said:
This is a truly multinational Combined Force with Lions of England and Lions of Estonia serving together in the contested areas of northern Nad 'Ali.
Support for better governance and pressure on the insurgents in Nad 'Ali have both significantly increased since establishing the CF in the area.
There has been more governance outreach by the District Governor since 5 August 2010 than has occurred since Op MOSHTARAK began in February 2010.
This has been made possible because of the courage and professionalism of a pride of 'International Lions'.
Many good friendships have been forged between the British contingent and the Estonians:
The Estonians are wanting for nothing; they are well-equipped and well-supported by my headquarters staff. Engineer rebuilds of their bases will significantly improve their living conditions, which will increase further their already high morale," Lt Col Boyd said.
The Estonian national symbol is very similar to England's in that it depicts three lions on a shield.
The Duke of Lancaster's Regiment is unique in that it is the only regiment permitted to wear the 'Lion of England' in battle.
Now, British and Estonian soldiers all bear the lion and Lt Col Boyd proudly sports both the Lion of England and of Estonia, a patch given to him by the Estonian National Component Commander, Lieutenant Colonel Riho Ühtegi:
It's no wonder my own soldiers call me the Lion King, I have a pride on my arm let alone in the field!" he joked.
Lieutenant Pritt Brikker, the Estonian Liaison Officer at Patrol Base Shahzad, said:
The tremendous support and trust which has built up in such a short time between these two units is proof of a strong and effective relationship; a relationship with the aim of achieving great success in improving the security of the Afghan people.

I would be lying if I did not say that it is a true privilege and honour to work side by side with the Lions of England, a truly professional and determined force of fine officers and soldiers - our brothers and sisters on the battlefield.
Lt Col Boyd also commented:
I have always had immense pride in my own officers and soldiers, who have now deployed five times to Afghanistan as the Theatre Reserve Battalion from our Cyprus base since we took on the role in August last year.
"To be given the honour of commanding Company 10 from Estonia, allies within NATO and professional and dedicated soldiers, as well as my own, is a great privilege and one neither my battalion staff nor I will forget.
The Estonians are immense soldiers - fit, professional and courageous. The people of Estonia should be very proud of Major Joemaa's soldiers; they are representing their country and people with the highest professional standards. They are true 'Lions of Estonia'.
He went on to say:
It has been a challenging month for Combined Force Nad 'Ali (North) that has resulted in the death of Sergeant Harvis Sikka from Estonia.

There are probably too many people in a Combined Force for the Commanding Officer to remember by name, but I certainly remember Sergeant Sikka.

I met him and recall a quiet and relaxed armoured personnel carrier driver who, serving alongside his friends, was totally dedicated to the mission he had been given. He was a good soldier, proud of what he was doing for his country and what he was doing for Afghanistan.
2 LANCS have also suffered fatalities during their 12-month operational marathon as the Theatre Reserve Battalion: Kingsman Jason Dunn-Bridgeman, Corporal Simon Hornby, Kingsman Sean Dawson and, most recently, Captain Andrew Griffiths and Kingsman Darren Deady.
Despite these losses, the Commanding Officer pointed out that in the past twelve months progress made in the region has been impressive.
Roads, schools and governance outreach have seen significant improvement:
'Because of the achievements of the Afghan, British and Estonian Combined Force, the ordinary people of central Helmand and their children will eventually be exposed to the sort of opportunities to better themselves that we in England and Estonia take for granted," Lt Col Boyd said.
He concluded:
This campaign will be successful because of its multinational nature. With so many nations standing firmly together against a common enemy I have little doubt that good governance will eventually triumph over tyranny and intimidation. The Lions of England and Estonia are bringing security to areas of Nad 'Ali where before there was none.
Published 27 September 2010