World news story
British Week in Kyrgyzstan concludes with The Queen's Birthday
The first British Week in Kyrgyzstan concluded with a reception to celebrate the official birthday of Queen Elizabeth II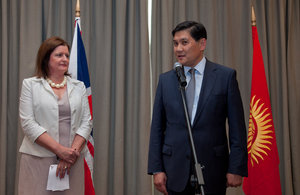 The first ever British Week in Kyrgyzstan concluded on 14 June with a reception at the Hyatt Regency Hotel to celebrate the official birthday of Queen Elizabeth II. The reception brought together leading public figures including government officials, civil society representatives, journalists, cultural figures, the diplomatic corps and the British community in Kyrgyzstan.
In her speech Her Majesty's Ambassador Judith Farnworth reflected on the shared achievements over the last 12 months and on the challenges ahead. She highlighted that the UK remains dedicated to strengthening and deepening the bilateral relationship, further confirmed by the visit of Baroness Warsi, Senior Minister of State at the Foreign Office, who became the first Foreign Office minister to travel to Kyrgyzstan on 13 June. The ambassador reiterated the UK's willingness to support the consolidation of a stable, democratic and prosperous Kyrgyzstan. She acknowledged the existence of some complicated and sensitive issues in the bilateral relationship but welcomed the spirit of openness and sincerity in which they were discussed. The ambassador took the opportunity to inform guests of the imminent opening of a monthly visa application service in Bishkek and promised more detailed information in the coming weeks.
The guest of honour at the reception, State Secretary at the Kyrgyz Foreign Affairs Ministry Asein Isaev, highlighted the importance of the bilateral relationship between the UK and Kyrgyz Republic, and congratulated the British community of Kyrgyzstan with the national holiday.
Published 21 June 2013