British warships visit Kuwait for joint training
British Warships, HMS Blyth and HMS Middleton, Sandown-class and Hunt-class mine hunters, visit Kuwait to undertake joint training with the Kuwait Naval Forces in the Arabian Gulf.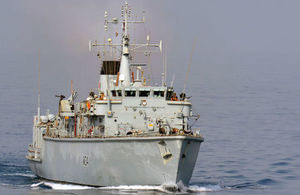 Lt Commander Louise Ray (Captain HMS Blyth) described the visit as very "successful" and "a great privilege to have Kuwaiti naval officers onboard". The visit provides the foundations for future operations and will be followed by further Royal Navy - KNF operations later in the year. UK armed forces continue to work closely with their Kuwaiti counterparts to underpin regional security.
HMS Blyth and Middleton are in the Arabian Gulf undertaking operations as part of the multi-national Combined Task Force 152 (CTF152).
HMS Middleton
HMS Middleton is a Royal Navy Mine Counter Measures Vessel (MCMV). She has been deployed to the Gulf for over 2 years, having set sail from her hometown port of Portsmouth in November of 2015.
HMS Middleton's primary role is to protect vital sea lanes and ensure access to regional sea bases in order to protect global security of energy supply and to provide wider security at sea. HMS Middleton detects, investigates, and destroys sea-bed threats with the use of high powered sonar, remote underwater vehicles and divers.
She works as part of a multi-national coalition and alongside other regional partners seeking to promote UK interests and to expand UK influence abroad.
Four of the Royal Navy MCMVs, and a dedicated RFA support ship, maintain a permanent presence in the Gulf demonstrating the UK's continued commitment to enduring peace and stability in the region. HMS Middleton was launched in April 1983.
HMS Blyth
HMS Blyth is one of seven Sandown-class Mine Countermeasures Vessels (MCMV) based at Clyde Naval Base in Faslane, Scotland. She is the second vessel to bear the name, the first being a Bangor-class minesweeper of the Second World War. She was launched in July 2000.
CTF152
Today the Arabian Gulf is one of the most strategically important waterways in the world due to its importance in world oil transportation. Established in March 2004, CTF 152 is one of three task forces operated by Combined Maritime Forces (CMF). CTF 152 enhances regional naval co-operation in the Arabian Gulf. CTF 152 operates in the Arabian Gulf where it coordinates Theatre Security Cooperation (TSC) activities with regional partners, conducts Maritime Security Operations (MSO), and remains prepared to respond to any crisis that may develop.
CTF 152 consists of ships, aircraft and personnel from a range of nations including Saudi Arabia, Bahrain, Jordan, Qatar, Kuwait, UAE, UK and U.S, and has also included participation from Italy and Australia. Command of CTF 152 is rotated between participating nations on a three to twelve month basis.
Published 14 February 2018