British volunteers meet Royal visitors
Their Royal Highnesses the Prince of Wales and Duchess of Cornwall met and thanked volunteers who help British residents in Spain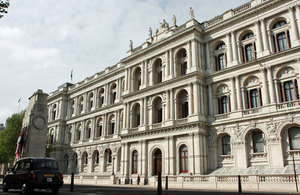 Their Royal Highnesses the Prince of Wales and Duchess of Cornwall last night (30 March) met some 300 representatives of the volunteer organisations that help British residents in Spain, at a special reception at the Ambassador's Residence in Madrid.
The Royal couple mingled among 300 representatives from numerous volunteer groups across Spain, who had travelled to the reception from as far afield as Barcelona and Seville, the Balearics and the Canaries. Among those also attending were representatives of Spanish local and regional authorities, and British Consuls.
The event took place in the garden of the Residence, and guests enjoyed very British refreshments of tea and cakes.
HM Ambassador Giles Paxman said: "The Prince of Wales and Duchess of Cornwall thoroughly enjoyed meeting the volunteer representatives and learning about some of the challenges they face. They were very pleased to have the opportunity to pass on their heartfelt thanks to the many thousands of British and Spanish volunteers who dedicate their time and energy to help more vulnerable British residents."
Sarah Rogers of Age Concern España said: "We were all very pleased that the Royal couple spent time chatting with representatives of our many groups. It is very rewarding to have the work of our volunteers recognised, and to know that their efforts are very much appreciated."
An estimated one million British citizens live in Spain for part or all of the year. The large network of volunteer organisations provides a high level of self-help for the British community, and for residents who may be facing financial and health problems.
Published 31 March 2011