World news story
British Visa Application Procedures in Kuwait
Unprecedented visa application numbers led the British Embassy to put new procedures in place to shorten waiting time for applicants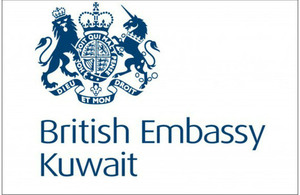 In response to questions and feedback from prospective visa applicants in Kuwait, and following a productive meeting between Her Majesty's Ambassador to the State of Kuwait, Mr Frank Baker, and The Undersecretary at the Ministry of Foreign Affairs, His Excellency Mr Khaled Al-Jarallah, the British Embassy in Kuwait would like to give the following information with regards to applying for a visit visa to travel to the UK:
In response to unprecedented demand – applications have doubled and have reached one thousand a day – the Visa Application Centre has extended its opening hours and is working double shifts. The Centre now opens between 8:30 and 15:30, and is also open (appointment only) after Iftar between 20:00 and 22:00.

The process for applying for a visa remains the same – appointments can be booked online at www.vfs-uk-kw.com . If you book an appointment you will not need to queue. Booking an appointment as far in advance as possible is highly recommended due to the current level of demand.

Should you need to travel urgently, you can still walk in to the visa application centre, and pay to use the premium lounge. However given the current levels of demand you are likely to have to wait in line, though there is no need to come early. Everyone who comes to the Centre is now being seen, and is either given an appropriate appointment or has their application processed there and then.

The team in the Embassy is working flat out to process visas as quickly as possible. Despite the huge numbers the vast majority of Kuwaiti visa applications are still being processed in around five working days. If you pay for the priority service then your visa application will be processed even quicker than this.

Should you have any enquiries about your application or the processes at the Visa Application Centre, you can ring their enquiry line on +965 22971170 or +965 22477490.

We recommend that to make your life easier you consider applying for five or ten year visit visas – this prevents you from having to apply repeatedly and means you can travel at your convenience.

With Eid approaching, we will do our best to process applications quickly for those who want to travel. However please note that it is very unlikely that applications submitted later than Monday 5 August will be processed in time for applicants to receive their visas before the Eid break. We also recommend strongly that Kuwaiti applicants pay for the priority service – as we aim to process these applications in two working days where possible. Those applying at the start of next week for travel during or straight after Eid will need to use this service in order for applications to be processed in time.

The British Embassy apologies for any inconvenience caused to applicants due to the unprecedented and unexpected levels of demand. Please rest assured that we are doing all we can to cope with this situation and maintain the high standards of service expected. We are delighted that so many Kuwaitis wish to travel to the UK and we hope that all our Kuwaiti guests in the UK enjoy their stay.
British Embassy
Kuwait
Published 29 July 2013