British Virgin Islands pilot new approach to environmental management
Foreign Office Minister Henry Bellingham has welcomed discussions in the UK Overseas Territory of the British Virgin Islands (BVI) on 'greening the economy'.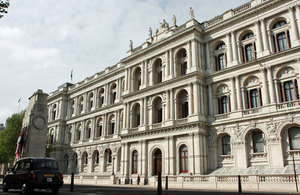 The discussions, held between 22-23 February, were part of a project supported by the BVI Government, the Foreign Office and Joint Nature Conservation Committee.
The aim of the project is to generate a broader understanding of the economic value of the natural environment and bring about a fundamental change to the way in which the environment is viewed and taken account of in future decision-making.
Introduced by the Governor and Premier of BVI, the two-day workshop brought together Government, business and NGOs to identify a range of priority actions that need to be taken forward over the short, medium and longer-terms to help secure a sustainable future for the islands.
In his remarks to the workshop, Dr the Hon Kedrick Pickering, Deputy Premier and Minister for Natural Resources and Labour made clear the importance of this issue for the BVI:
"Unless and until the environment becomes everyone's business, and is thought about, and seriously considered in every decision we make, we can forget about an environment that will be in any condition to maintain our economy, secure our development or continue to provide the lifestyle that we now enjoy."
On hearing of the success of the workshop Minister Henry Bellingham said:
"The environment is an important asset to the BVI and these discussions are a valuable opportunity to better understand the contribution it can make to sustainable economic growth and development. I am pleased that we have been able to support this new approach to environmental management and look forward to the seeing the results of the project when it reports later in the year."
A healthy environment can play an important role in activities such as flood protection, food production and mitigating the impacts of climate change. Among other things it will be critical to the success of the tourism industry which is a major contributor to the BVI economy.
Published 2 March 2012