World news story
British Trade Minister leads UK delegation to Vibrant Gujarat
British Minister for Trade and Investment Lord Livingston will visit India from 9-12 January 2015.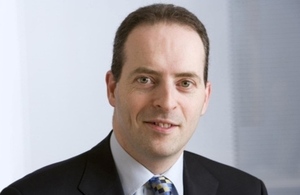 British Minister for Trade and Investment, Lord Livingston will be leading a contingent of over 60 British companies and 100 delegates to Vibrant Gujarat. This is one of the largest delegations of any country at Vibrant Gujarat 2015, with sectors including advanced engineering, manufacturing, retail, financial services, infrastructure, design and education.
The next few days will see several major new announcements including the opening of a British-built power plant in Gujarat and up to £1.5 billion of new investments in Gujarat's power sector; and an agreement to work with the Government of Maharashtra to share British experience of improving ease of doing business.
Lord Livingston will announce the opening of a power plant built by British company OPG Power Ventures, with OPG planning investing up to £1.5 billion more in Gujarat's energy infrastructure, the largest single British direct investment in Gujarat's power sector.
In Mumbai, Lord Livingston will inaugurate the new UK India Business Centre at Bandra Kurla Complex with the Maharashtra Minister for Industries, Subhash Desai. In the spirit of the Indian government's 'Make in India' campaign, the two ministers will witness the signature of a new agreement between the UK-India Business Council (UKIBC) and the Maharashtra Industrial Development Corporation (MIDC) offering UK support and expertise as Mumbai works to contribute to an improvement in India's ranking in the World Bank's Ease of Doing Business Index.
Lord Livingston will also visit British and Indian companies in Gujarat and Maharashtra. He will visit the StadiArena project site, a UK-designed stadium, near Kankaria Lake in Ahmedabad, and call on CEOs of British companies investing in India, as well as Indian companies investing in the UK.
Lord Livingston said:
The economic relationship between the UK and India is strong and well-established. We are the largest major investor in India, and India invests more in the UK than in the rest of the EU combined.
Indian companies make a fantastic contribution in the UK, and British businesses are involved in excellent projects in India. Both countries are keen to pursue new opportunities to develop deeper business ties both in the UK and in India, and I am delighted to be leading such a strong delegation of British companies at Vibrant Gujarat.
Further information:
the UK is a partner country at Vibrant Gujarat. Led by Lord Livingston, over 60 companies and 100 delegates will represent the United Kingdom at Vibrant Gujarat, one of the largest delegations of any country in 2015. The sectors covered include advanced engineering, manufacturing, retail, financial services, infrastructure, design and education. UK delegates range from global CEOs such as Vittorio Collao, of Vodafone and Sam Walsh of Rio Tinto, to smaller world leaders in their field such as DELCAM and Ricardo. Lord Livingston himself was the former CEO of BT and leads the UK Government's agenda on trade & investment.

the UK is India's largest G20 investor, India invests more in the UK than it invests in the rest of the EU combined. The UK-India relationship is one of the most important that there is for both countries, which will be further strengthened by participation in Vibrant Gujarat.

last year the UK invested $3.2 billion in India, more than any other G20 country and more than Japan ($1.7 billion) and the US (just under $1 billion), who are ranked 2 and 3 respectively, combined.

aggregating all investment over the last 14 years, the UK still ranks No.1 in the G20 and accounts for ~10% of all investment into India over this period.

India is one of the biggest investors in the UK and invests more in the UK than it invests in the rest of Europe combined.

from 2008 to 2013 bilateral trade grew by almost 50% from ~£11 billion to ~£16.5 billion, despite a slowdown in both UK and Indian economies.

according to Thomson Reuters' India M&A review for FY 2014, the UK is currently the top investor in Indian companies in terms of value of M&A activity, investing US$2.9 billion in 23 announced deals, and accounting for 25.3% of India's inbound activity during 2014
For further information email Shireen Mistry
Follow us on Twitter, Facebook, Flickr, Storify, Eventbrite, Blogs, Foursquare, Youtube
Published 9 January 2015