World news story
British trade delegation visit to Kazan
A British trade mission headed by British Ambassador Laurie Bristow visited the Republic of Tatarstan in early November.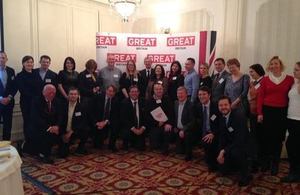 27 British companies met with business representatives, academia and the local authorities. Companies participating in the mission also visited the Kazan Arena stadium, a special economic zone, Innopolis University, as well as the IT Park - a techno park with high-tech technologies. The second day of the programme continued with visits to the Russian oil company Tatneft, based in Almetyevsk and to the factory of heavy truck manufacturer Kamaz in Naberezhnye Chelny.
Ambassador Bristow spoke to students at the Kazan Federal University, whilst also discussing areas of co-operation with the university management. Meanwhile, the UK Minister Counsellor for Prosperity, Jonathan Brenton, visited the Kazan State University of Architecture and Building Construction.
Science was major theme for the mission. International scientific publishing company, Nature Publishing Group, took in the mission. Mission participants met with students and staff at a number of Kazan universities and visited the Tatarstan Academy of Science to discuss opportunities for further cooperation including publishing local researchers' work in English publications.
Consular co-operation in the run up to the World Cup 2018 is also an area of interest as Kazan will be one of the host cities. Therefore, British Embassy Consular section also joined the mission to build working relations with the region to ensure safety and security of British teams and citizens who will attend this major sporting event.
Culture is another key area, which the UK is very keen to highlight in Kazan. Her Majesty's Ambassador opened the British Council's New British Film festival in Kazan – showcasing the British film industry across Russia. As the part of ongoing UK-Russia Year of Language and Literature, the regional final of the Otkroy Rot competition also took place during this mission. It is dedicated to Shakespeare's works and legacy, as this year also marks the 400th anniversary of his death.
The delegation, headed by Ambassador Bristow, turned out to be the largest British trade mission ever visited Tatarstan. The mission's wide and varied programme gave a strong impetus in order to boost cooperation between British companies and the Embassy with the region.
Published 1 December 2016