British Trade Delegation to Ufa, Bashkortostan
British Consulate General in Ekaterinburg organised the delegation of British companies to Ufa – the capital of the Republic of Bashkortostan.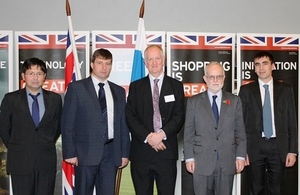 The delegation was headed by Mr Denis Keefe, Minister, Deputy Head of Mission, British Embassy in Moscow, and Mr Neil Semple, British Consul General in Ekaterinburg.
This was the first British delegation to the Republic since 2005. 18 companies representing the variety of sectors including audit & consulting, construction, education, finance, water treatment, legal, biopharmaceutical, advanced engineering and automation took part in the visit. Most of the companies within the delegation already have their presence in Russia but wanted to develop regional cooperation with the local business and authorities.
The programme of the visit included the set of seminars with the local companies and a high level meeting with the President of Bashkortostan Rustem Khamitov. Denis Keefe, Minister, Deputy Head of Mission, British Embassy on Moscow, who headed the delegation during the meeting with the Mr Khamitov said: "UK Government considers the development of Trade & Investment between two countries to be one of the main priorities. The Republic of Bashkortostan is one of the most important Russian subjects in the terms of economic potential and opportunities for the international business cooperation".
This was the fourth Trade Delegation within the past two years with first three being to Tyumen, Tomsk and Chelyabinsk.
Links to press for more information
http://tv-rb.ru/news/2013-11-07/chleny-pravitelstva-respubliki-budut-poseshchat-kursy-anglii/32015
http://www.tpprb.ru/today-arch/1163-bashkortostan-i-velikobritaniya-budut-sotrudnichat-v-oblasti-biotekhnologij-mashinostroeniya-stroitelstva-i-inzhiniringa
http://www.bashinform.ru/news/586996/
http://www.pravitelstvorb.ru/press_office/newsline/detail.php?ID=5011
http://www.vesti.ru/doc.html?id=1151086
The photos of the British Trade Delegation visit can be found on the UK in Russia flickr account
Published 11 November 2013
Last updated 19 November 2013
+ show all updates
translation added

First published.