World news story
British Trade Delegation to Chelyabinsk, South Urals
Deputy Ambassador Denis Keefe led a UK trade delegation of 15 companies from a variety of sectors to South Urals.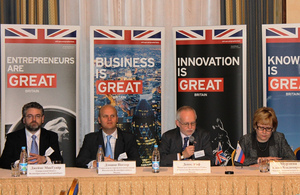 This was the third Trade Mission organised by UKTI Ekaterinburg to Urals and Siberian regions in the past year. They were Arup, Delete (fuse8 Group), Denman & Goddard, Deloitte & Touche, Ernst & Young, GlaxoSmith Kline, IndigoVision Ltd, Intellitect Water Ltd, JCB, KPMG, MTA, PilzRus, Renishaw, Welding Alloys and WYG International.
Damion Potter, Head of UKTI Russia, and James McGuire, Consul General in Ekaterinburg, also took part.
The Chelyabinsk Region has an extensive industrial base dominated by metallurgy, heavy engineering, construction, and food processing. In 2012 Chelyabinsk was named by Forbes magazine as third best city for doing business in Russia.
The mission programme included business one-to-one meetings for each company, a round table at the regional Government and visits to major production enterprises - pasta producer Makfa and Chelyabinsk Tube-Rolling plant. The delegation also paid a visit to the leading British global beverage-can maker - Rexam.
Early feedback from the delegates indicated a number of important contacts made and potential commercial projects uncovered.
Published 7 June 2013