World news story
British support for Seychelles' probation services
This was published under the 2010 to 2015 Conservative and Liberal Democrat coalition government
British probation expert passes on advice to Seychelles' probation, police and prison service staff, with the support of BHC Victoria.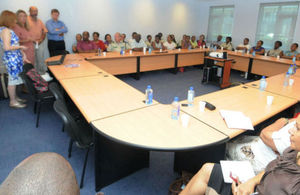 Lisa Parker, an experienced officer from the Yorkshire Probation Trust delivered a five day series of workshops on the work of offender management services work in the UK intended to help promote best practice in Seychelles' probation and prison services. Ms Parker's visit was funded by the British High Commission and is part of its ongoing support for Seychelles' criminal justice system.
"Our united history has ensured that Britain and Seychelles share many of the same values. Part of Seychelles' colonial legacy is a legislative and judicial system which is directly comparable to that of the UK. And I believe that this shared system encapsulates many of the values we also share. It includes the understanding that prison is not, indeed must not be, just a form of punishment, but must also be a vehicle through which the prisoner can be rehabilitated and prepared to rejoin society," said the British High Commissioner, Lindsay Skoll, at the opening of the workshops.
"Ms Parker's presence here is to share with us the experience the United Kingdom has gone through, what has worked for them. She will learn what is working in Seychelles and also the weaknesses. This will help us improve the service delivered. She will also look at our legal framework, the institutions in place, the laws in place, our human resources, do we have enough people working in this sector and are they well trained, are we working together for a better service?" said Designate Minister Vincent Meriton, who attended the opening session of the course.
"It is important that we reinforce the prison, probation services, work with schools, work with prisoners and those who are expected to be released so that they can re-integrate well into society," he added.