British soldiers teach female Afghan police officers IED awareness
British troops have run a course for female officers of the Afghan Uniform Police in improvised explosive device (IED) awareness.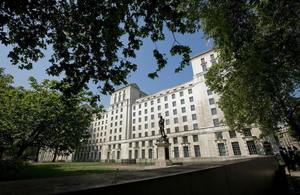 The British Service personnel from the Explosive Ordnance Disposal and Search Task Force, attached to the Police Mentoring and Advisory Group, ran a three-day course at the Lashkar Gah Training Centre to teach four female officers of the Afghan Uniform Police (AUP) how to communicate the dangers of IEDs to the people in their communities.
The course involved teaching the four Afghan officers the essentials about countering explosives, and the AUP officers have already taken their training to schools around Helmand where they have taught an estimated 6,000 children about the dangers of IEDs.
The course culminated with the female officers demonstrating their knowledge by delivering a 'lesson' for the instructors, which impressed both their British and Afghan teachers.
Lance Corporal David Brevitt, a member of the team responsible for the training, and who was assisted by Captain Khan Mohammed, the head of the AUP's own counter-IED unit in Lashkar Gah, said:
We were slightly apprehensive at first as we hadn't had any previous contact with any Afghan females. However, this soon subsided when the AUP officers arrived as they proved to be very welcoming, relaxed and already very well-informed.

On the third day, the female officers were given the task of delivering a lesson containing everything we had covered in the course, which they did confidently and accurately.

Overall, it was a challenging course to deliver, but I hope the lessons will end up being given to as many children as possible to educate the younger generations on the dangers of IEDs planted in their towns and villages.
AUP mentoring team leader Corporal David Little said:
The training was extremely successful from an ISAF point of view, and it is good for this information to be getting out to the schools for the future of Afghanistan.
Colonel Wayais, the operations officer at the provincial police headquarters in Lashkar Gah, said:
I am extremely pleased with the progress they have made and the quality of the lesson they have delivered here in this demonstration.
The Police Mentoring and Advisory Group (PMAG), which is led by 1st Battalion The Princess of Wales's Royal Regiment (1 PWRR), is responsible for mentoring the Afghan National Police at provincial and district level and aiding institutional development.
The PMAG also has a number of Police Advisory Teams and specialist mentors who work with the AUP in a variety of areas such as counter-IED, administration and supplies.
Today, Thursday 8 March 2012, is International Women's Day, a global day celebrating the economic, political and social achievements of women past, present and future. See the International Women's Day and Number Ten websites at Related Links for more.
Published 8 March 2012