British soldier teams up with Afghan comrades in Ramadan run
A British major serving in Afghanistan is intending to put his long distance running skills to the test to raise money for fellow soldiers hurt in the conflict, and will be joined in the effort by Afghan soldiers.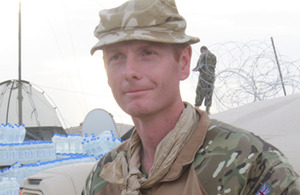 39-year-old Major Tom Perkins has already run marathons on Mount Everest and across Death Valley in America. His next challenge on 1 September 2010 may not be so glamorous but it will be just as testing.
He will run a marathon around an Afghan National Army (ANA) base in 50 degree heat, and some of the Afghan soldiers he advises will run with him, even though it will still be Ramadan and they can't even have a drink:
Whether we are Afghans or Brits we feel the same way," said Major Perkins, Company Second-in-Command, The Royal Scots Borderers, 1st Battalion The Royal Regiment of Scotland, which presently forms the Brigade Advisory Group working alongside the ANA in Afghanistan.
We want to do something to help all those British soldiers who have made personal sacrifices for Afghanistan. As part of my job I am often at the hospital in Camp Bastion visiting injured British and Afghan troops with my Afghan counterparts, and we are acutely aware of the human cost of bringing freedom and security to this country.
All the money he and his fellow runners will raise - and he hopes it will be thousands of pounds - will be donated to ABF (Army Benevolent Fund) The Soldiers' Charity:
I will run nine laps of Shorabak Camp, which is three miles [5km] round, and a number of my soldiers, and Afghan soldiers, will each run a lap with me.
Unfortunately, I haven't been able to do anything like the training I would normally do for a marathon because we have had so many missions, so it is going to be tough.
Major Perkins says that for once he doesn't care how long it takes him to finish. His fastest marathon time so far is three hours and 16 minutes:
Time is not the point," he said. "We are going to do it in the heat of the day. That will be difficult enough.
For Major Perkins, his tour has been the second opportunity for him to work closely with a local army. He received an MBE (Member of the Order of the British Empire) for his efforts with the Iraqi Army in Basra in 2008.
For the past five months he has been putting all that experience to good use again, advising the ANA at the headquarters of 3/215 Brigade next to Camp Bastion:
I won't say it hasn't been frustrating at times, but this job also has the potential to do vast amounts of good. We just want to help the ANA continue to progress. They work differently to us sometimes, but together we have already achieved a huge amount," said Major Perkins.
Published 23 August 2010