World news story
British Residence flies the iconic rainbow flag to celebrate Pride Month
The rainbow flag will fly at the British Ambassador's Residence this weekend to celebrate the annual Pride event in Guatemala City.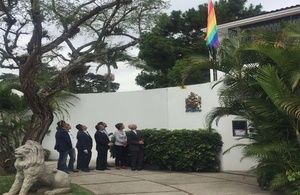 The rainbow flag, symbolising LGBT pride, was raised today by the British Ambassador in Guatemala, Thomas Carter, in an event that included several organizations and representatives of institutions working to advocate LGBT rights.
Thomas Carter, British Ambassador to Guatemala, said:
We are delighted to join with the LGBT community in celebrating Pride this weekend, and will be flying the flag at the British Residence. Our commitment to promoting tolerance, bringing people together and flying the flag this weekend shows our admiration and solidarity with the LGBT community in Guatemala.
The flag symbolises lesbian, gay, bisexual and transgender pride, and reflects the diversity of the LGBT community with its red, orange, yellow, green, blue and violet horizontal stripes. Designed in San Francisco in 1978 by Gilbert Baker, the original flag had 8 stripes instead of today's 6.
Published 23 June 2017