World news story
British power generating company Aggreko opens in Arequipa
Special guests, joined by the British Honorary Consul were present at cocktail reception celebration Aggreko's starting operations.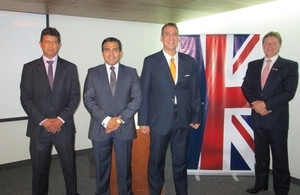 The business presentation and cocktail reception of the Glasgow-based British company Aggreko, the world's largest temporary power generation company, and a major supplier of temperature control equipment were held at the Sonesta Posada del Inca hotel, followed by presentations of Aggreko Peru's Country Manager, Guilherme Marinho and Business Development Manager for Peru, Eduardo Cisneros –both based in Lima, where the company's main office in Peru is headquartered.
Jointly organized and hosted by the Honorary British Consulate in Arequipa and Aggreko Peru with support by Maricarmen Larrauri from the UK Trade & Investment (UKTI) unit in Lima, the event showcased Aggreko's offering of temporary power supply for Arequipa.
Aside from the requirements for solving the temporary energy needs, southern Peru is currently experiencing drought conditions which are not expected to improve in 2015. Therefore, the city's water-driven turbines providing a regular supply of electricity won't be able to maintain uninterrupted service until the rains finally return.
Thus, alternative means of generating energy in the short and medium term have been introduced as a priority in many companies' strategies for the future. Aggreko Peru has just opened a branch in Arequipa's Industrial Park where all sizes of electricity generators can be rented.
Published 15 August 2014