World news story
British photographer joins Philippine-British Friendship week with photo exhibition
British photographer Justin James Wright will hold a fine art photographic exhibition at the ArtistSpace of Ayala Museum this October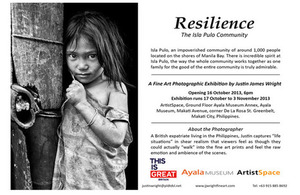 "Resilience: The Isla Pulo Community" opens at 6pm on October 16, 2013, and runs from October 17- November 3, 2013. Through a series of poignant, fine art photographs, the exhibit takes you into the heart of the people of Isla Pulo – an impoverished community of roughly 1,000 people – on the shores of Manila Bay.
Wright takes the audience on a journey to a surreal place of strength amid squalor, perseverance despite poverty, and resolve, above ruin. Through his lens, he allows viewers to step into everyday life situations within the community, and enables them to feel the raw emotion captured in the moment.
Ambassador Designate Asif Ahmad congratulated Mr Wright on his first exhibition in the Philippines. Ambassador Ahmad said:
The Philippines is a source of inspiration for many artists, and it is exciting to see more and more fellow Britons coming here. The exhibit's title, 'Resilience', encapsulates the Filipino spirit that I have seen over the 10 years that I have visited the country. We are grateful to the Ayala Museum for hosting talented artists from all over the world, including from the UK. This collaboration is another great way to celebrate Philippine-British Friendship Week this October.
Mr Wright's photographs showcase British creativity. People in the Philippines can see British talent not just in museums but also in their daily lives through fashion, music, film and literature.
ArtistSpace is located at the ground floor of the Ayala Museum Annex, Ayala Museum, Makati Avenue corner Dela Rosa Street, Greenbelt, Makati City. Gallery is open every day from 10 a.m. to 7 p.m. For more information, please visit http://www.jjwrightfineart.com/.
Mr Wright's exhibit is part of 'This is Great Britain', a five-month celebration of the best of British business and culture which encompasses Philippine-British Friendship Week, among other exciting events.
Further Information
About Justin James Wright:
With a respected background in the fields of engineering and infrastructure, having been at the helm of several large-scale projects both in the Philippines and abroad, Wright catches you off-guard with the sensitivity of his work. Sublime and stoic all at once, his photographs reveal a passion for looking beyond the obvious poverty situations, into deeper truths: Strength, fortitude, the ability to rise above. The spirit of resilience.
Having pursued photography throughout his life, Justin became a semi-professional lensman in 2006. In 2010, he took his love for the art to the next level, and devoted himself full-time to capturing typical life scenes in challenging socio-economic conditions.
He has lived in the Philippines since 1998, and is no stranger to the harsh realities frequently endured by many. Driven by a desire to help such communities, Justin creates an awareness and supportive interest though his photos. On print, he gives his subjects a voice.
Through masterful technique and skilful employ of light and shadow, composition and texture, Justin sets the stage for a truly unique, powerful experience.
Published 15 October 2013