Press release
British Pharmacopoeia launches new integrated website
A new website has gone live today integrating all British Pharmacopoeia websites into one user-friendly resource.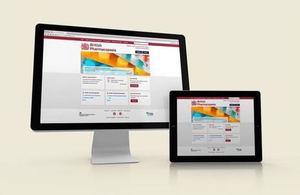 From today the websites of the British Pharmacopeia, pharmacopoeia.co.uk and pharmacopoeia.com (previously pharmacopoeia.gov.uk) will be brought together into one integrated, new look website www.pharmacopoeia.com.
The new site, which has been developed in partnership with TSO (British Pharmacopeia's official publisher), will enable users to access their subscription and order BP chemical reference substances from one place.
Further technical information, reference materials and material safety data sheets will be available on the site. Users will also have the opportunity to input on draft new and revised monographs before they are published.
The British Pharmacopoeia (BP) is the official collection of standards for UK medicinal products and pharmaceutical substances. Produced by the British Pharmacopoeia Commission Secretariat of the Medicines and Healthcare Products Regulatory Agency, the BP makes an important contribution to public health by setting publicly available standards for the quality of medicines.
Samantha Atkinson, Group Manager, British Pharmacopoeia and Laboratory Services said:
This is a significant enhancement of our online publication which will provide our users with a superior experience.

It consolidates our 2 previous websites into a user-friendly and cutting-edge online platform.

We are confident that the improved facility will provide greater value to our customers and will enable our users to access our products and services with ease.
See the new BP website for more information.
https://www.youtube.com/watch?v=dTUgiC5pF3I
Background
Since 1864, the BP has been providing authoritative standards for medicinal products and pharmaceutical substances and it continues to play an important role in the standard-setting process worldwide. Now used in over 100 countries, the BP remains an essential reference for all individuals and organisations working within pharmaceutical research and development, manufacture and testing around the globe.
The Medicines and Healthcare products Regulatory Agency (MHRA) is responsible for regulating all medicines and medical devices in the UK by ensuring they work and are acceptably safe. All our work is underpinned by robust and fact-based judgements to ensure that the benefits justify any risks. MHRA is a centre of the Medicines and Healthcare products Regulatory Agency which also includes NIBSC and CPRD. The Medicines and Healthcare products Regulatory Agency is an executive agency of the Department of Health.
Media enquiries
News centre
MHRA
10 South Colonnade
London
E14 4PU
Email newscentre@mhra.gov.uk
During office hours: 020 3080 7651 (08:30 - 17:00)
Out of office hours: 07770 446 189 (17:00 - 08:30)
Office hours are Monday to Friday, 8:30am to 5pm. For real-time updates including the latest press releases and news statements, see our Twitter channel at https://www.twitter.com/mhrapress
Published 10 August 2015