World news story
British Office Launches GREEN Is GREAT Campaign on Earth Day
On Earth Day, the British Office is asking everyone to take actions to show support for environmental protection for a greener life.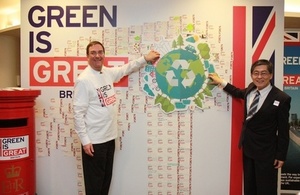 Global climate change is one of the most important issues in the world now. On Earth Day today, the British Office is asking everyone in Taiwan to take actions to show support for environmental protection for a greener life.Minister Wei Kuo-yen from Environmental Protection Administration was also invited to share Taiwan's perspectives at the event. The British family in Taiwan – the British Office, British Council, British Chamber of Commerce in Taipei and Scottish Development International - are joining together in a new campaign for a greener life, both as individuals and as organisations. Linked to climate, sustainability and business, the "GREEN is GREAT" campaign lines up various planned activities from Earth Day until November.
The UK was the first country in the world to adopt statutory emission reduction targets, which require the Government to reduce emissions by 80% of the 1990 level by 2050 (Climate Change Act 2008). The UK continues to share with the world its unique experience and expertise, including here in Taiwan. Taiwan also passed the Greenhouse Gas Reduction and Management Act just last June, which adopted similar practices to the UK's Climate Change Act.
The importance of green infrastructure development is increasingly recognised in the UK. The main components range from climate adaptation, sustainable energy production, better air quality, less heat stress, more biodiversity, food production, clean water and healthy soil. It serves to provide an ecological framework for social, economic and environmental health of our surroundings.
The UK has the largest offshore wind farm in the world with a national target to build 50GW of offshore wind farms by 2030. Approx. 10GW is expected to be in operation by the end of this year. Cooperating with Ministry of Economic Affairs, The British Office will be hosting the 11th UK-Taiwan Offshore Wind Power Conference in Taipei on 30 May. More than 10 UK offshore wind experts representing policy, consultancy, environment/fishery, ports, marine engineering and operation & management will share their best practice in developing offshore wind farms in the UK, to inform Taiwan's plans to develop its first offshore wind farm.
In June, a UK Carbon Capture and Storage (CCS) mission of researchers and academics will visit Taiwan to share UK's latest research findings and achievements in CCS. In September, led by British Chamber of Commerce in Taipei, workshops on corporate social responsibility (CSR) on climate change will run to engage more individuals and businesses.
The UK built the world's first commercial nuclear power plant in 1956 and 19 nuclear power plants are currently being decommissioned in the UK, all managed by UK's Nuclear Decommissioning Authority (NDA). In November the British Office will invite 6 UK nuclear decommissioning experts to Taiwan to offer UK experience in this area.
The UK is also at the forefront of building a bigger, safer and more reliable rail system to encourage people to use public transport in their daily lives and build up a sustainable life-style. The UK rail industry spends around US$16 billion per year resulting in 200,000 UK jobs. Since 2003 the British Office has been working closely with all the railway authorities in Taiwan through outward and inward missions and numerous other railway events. The next railway mission to visit Taiwan will be in November and will focus on sustainable railway solutions, asset management and maintenance equipment.
Chris Wood, the British Representative stated, "Climate change is not just a threat to the environment, but also a threat to global security and to economic prosperity. The UK is already a good way down the road towards reducing our overall carbon footprint and we are reaping the benefits for both our environment and the economy. I am confident that Taiwan will also reap the rewards of green growth and green life!" The British Office urges all to work together to make it happen!
Published 22 April 2016