World news story
British Office hosts UK-Taiwan RMB Conference
The Conference on "Trends and Developments in the International RMB Market" was held in Taipei on 30 December 2015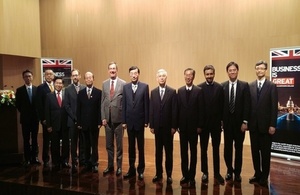 The British Office organised the UK-Taiwan RMB conference, involving Taiwan's key regulators – Financial Supervisory Commission and Central Bank, on the topic of 'Trends and Developments in the International RMB Market' to share the views from London and Taipei at Taiwan's Academy of Banking and Finance (TABF) in Taipei on 30 December. The Conference was sponsored by Barclays, HSBC and Standard Chartered banks.
Over the last three years the RMB has overtaken six currencies to now rank as the 5th most used currency for international payments, behind the US Dollar, the Euro, Sterling and the Japanese Yen - accounting for 2.45% of global payments. Around a quarter of China's external trade is now settled by RMB. As the pace of RMB internationalisation continues, significant opportunities are being created for major Offshore RMB Centres such as London and Taipei.
The UK is playing a key role in the internationalisation of the RMB. During his State Visit to the UK in October this year, Chinese leader Xi Jin Ping described the UK as "the leading offshore RMB trading centre after Hong Kong." This confirmed that London has established itself as a global hub for RMB business and the leading western offshore RMB centre.
At the Conference, Chris Wood (Representative, British Office) spoke about the latest international developments in the offshore RMB market and highlighted the potential for London and Taipei to work together to realise the opportunities that the internationalisation of the RMB offers both economies.
Taiwan's Financial Supervisory Commission Chairman Ming-Chung Tzeng and Central Bank Deputy Governor Chin-Long Yang also shared their views on the subject and gave Taiwan's perspective on the potential for Taipei's financial services sector to benefit from this trend. The three UK banks operating in Taiwan, Standard Chartered, Barclays, and HSBC also shared their views on the prospects for the developments in the international RMB market.
Document information
Published: 30 December 2015