World news story
British mountaineers arrive in Pakistan to break records while tackling K2
The first British expedition to tackle K2 in 12 years met Patrick Moody, the Acting British High Commissioner to Pakistan to discuss their record-breaking mission.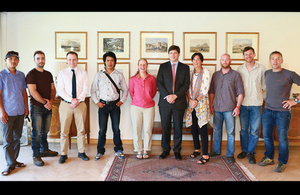 The seven member expedition is led by Di Gilbert, from the Highlands, who could become one of the first British women to get the 'gold medal of mountaineering'. The group also includes Captain Jake Meyer, from Gloucestershire, who could become the youngest Brit to reach the top of K2, which is the world's second highest mountain. Nepalese Sherpa Mingma Dorchi could also become the first person to climb the mountain three times.
The group is completed by fellow Brits Pete Brittleton from the Lake District and Paul Etheridge from Ipswich, as well as Canadian Jean-Bernard Charron and Nepalese Sherpa Phurba Ongel. They also met the head of the DFID Pakistan Joanna Reid, British Consul Jon Ryan and Islamabad-based diplomat Richard Oldfield, who is also planning to climb to K2's basecamp.
Only eight other Brits who have reached the summit of the "Savage Mountain", three of whom died on the descent.
Speaking to the mountaineers, the Acting British High Commissioner to Pakistan, Patrick Moody said:
It is a complete honour to meet such an incredible group of people. K2 is the second highest mountain in the world, but its inaccessibility, the technical requirements and the danger it presents, makes it the most prized trophy for the world's best mountaineers. The team's bravery, good humour and attitude before taking on this enormous challenge, is truly humbling.

I am also very happy to see the re-emergence of Pakistan as a destination for the best mountain climbers in the world. With five mountains over 8000 meters, Pakistan has more high mountains than anywhere else in the world, and expeditions like this are important for the local economy and to showcase the incredible natural beauty of Pakistan.

I extend my warmest wishes to all the participants.
Joanna Reid, Head of DFID Pakistan, added:
As a woman, I am particularly proud to wish the group led by Di, the very best of luck. Pakistan is a hard place to be a woman, and her courage and leadership should be an inspiration for many others
Notes to editors: