World news story
British Missionaries in Moldova
British Ambassador visited two summer camps for Moldovan children organised by British missionaries.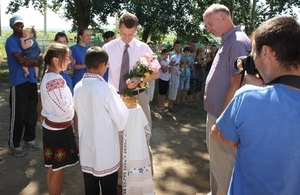 Last week Ambassador Phil Batson visited two British couples who, driven by their strong Christian faith, are running summer camps for Moldovan children.
Rob and Jo Allen from Sussex have been coming to Moldova since 2005 providing activities for children during the school holidays and weekends as well as support throughout the year. Through a variety of activities (including games, craft work, Bible studies and English lessons) they encourage and provide opportunities for young people to develop and exercise leadership skills. Since 2008 they have been a registered charity - Flyers International – and through their activities aim to deliver sustainable change in local communities.
Chris and Helen Ducker are British missionaries who came to Moldova in 2007 with their children to help the poor and marginalised, and spread the Gospel. Their ministry has been based in the Prut Valley in the west of Moldova, first in Dancu where they spent 5 years and, since November 2012, in Răzeşi. Notable achievements include: the establishment of a communal barn and play area and the building of a youth and community centre in Dancu. And this year they opened a canteen, park and youth rooms in Razesi. From September they will be able to use the building not just for meals for the elderly, but also for different youth groups, English classes, and hopefully Bible studies and outreach amongst young people.
Whilst in Razesi the Ambassador also met the Mayor and his staff and discussed the problems facing the village. Its population numbers 1,270, but it is continually falling because of migration (as young people leave to find work) and as the mortality rate outstrips the birth rate.
Published 5 August 2013