World news story
British Minister's visit to Pakistan
He is the first Foreign Office Minister to visit Pakistan since the new British Government was elected in May this year and the first to visit Karachi since 2012.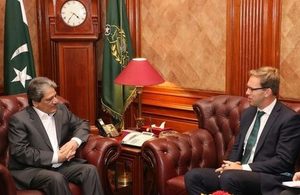 Tobias Ellwood, British Minister for Pakistan, arrived in Karachi on 21st Sep at the start of a two day visit.
Mr Ellwood met senior figures in both business and politics, including the Governor of Sindh, Ishrat-ul-Ibad Khan and the Chief Minister of Sindh, Syed Qaim Ali Shah. They discussed strengthening trade links with Pakistan, capitalising on the unique people-to-people connections between the two countries.
While speaking in Karachi, Mr Ellwood highlighted the strength of the trade ties between the UK and Pakistan, saying:
The relationship between the UK and Pakistan is as strong as ever. Our two countries enjoy a friendship that is both long lasting and deep. Trade is a central part of this relationship. Over 100 British firms are operating successfully in Pakistan.
Mr Ellwood will continue his visit and has meetings planned with a range of senior Ministers and officials to highlight what the UK can do to help exporters in Pakistan and to discuss bilateral issues focusing on security, prosperity and governance.
Notes to editors: Pictures of Minister Ellwood's meetings with the Governor and Chief Minister of Sindh are available on our Flickr link
Published 23 September 2015