British Ministers focus on energy security and trade
Lord Howell addresses the International Energy Forum in Riyadh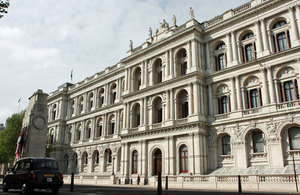 Two British Ministers are visiting Riyadh today as part of a major initiative by the British government to strengthen its relationships with the Gulf countries and particularly Saudi Arabia. Lord Howell, Minster at the British Foreign and Commonwealth Office and Lord Marland, Minister at the Department for Energy and Climate Change, will hold talks in Riyadh with a range of Saudi minsters and senior government officials as well as with business leaders.
Whilst in Riyadh Lord Howell, who holds the international energy portfolio at the Foreign Office, will give a speech to the International Energy Forum (IEF). The IEF has its international headquarters in Riyadh and in March of this year representatives from over 80 countries gathered in Riyadh to sign the IEF Charter. The IEF has a unique role in bringing together oil importing and exporting countries to facilitate the transparent flow of information about energy markets and greater dialogue on policy issues. In his speech to the IEF Lord Howell will say:
"Saudi Arabia is the heart of world oil production that underpins global markets, so it is of no surprise that it should be the home of the International Energy Forum. And I would like to note the UK Government's appreciation of the strong support given to the IEF by the Kingdom of Saudi Arabia….The role of producer states in ensuring price stability is crucial. It is important to recognise the contribution made by Saudi Arabia and other OPEC producers for having quickly made clear their willingness to enhance price stability by making up lost Libyan shortfall. We are very grateful for these actions, and feel confident that producers would take similar steps again in future, if necessary"
During his visit to Riyadh Lord Marland will be meeting a range of Saudi and British business people in his role overseeing Britain's network of trade ambassadors. The trade ambassadors work with UK Trade and Investment, the British government's international trade body, to promote British business oversees. Lord Marland, who joined the government following a successful business career in his own right, will be looking at how the British and Saudi governments can support the private sector in driving sustainable and mutually beneficial growth. Speaking before the visit Lord Marland said:
"Saudi Arabia is a crucial commercial partner for the UK. Our two Kingdoms have a long history of successful collaboration which has built prosperity, employment and opportunity for both sides. I will be looking to work closely with the Saudi public and private sectors to strengthen our existing links.
Search the news archive
Published 30 May 2011